Symunc 2017
13-14 October, 2017
Symbiosis Centre for Management Studies, NOIDA hosted its fourth edition of Symbiosis Model United Nationss Conference (SYMUNC) with the theme Discuss, Debate and Deliberate. The conference began with the auspicious lightening of lamp by the hands of the the chief guest Lt. Gen. M.M. Naravane, the Director Dr. Shrirang Altekar, Ms. Swati Singh the Faculty In-charge of SYMUNC and the Core OC Members followed by a small video, introducing the core OC members of SYMUNC'17 and their past experiences, hard work and efforts behind making this event a huge success. The event was witnessed on October 13 and 14 with a participation of more than 200 delegates in and around the city.
The event was marked by the presence of Lt. Gen. M.M. Naravane. He intrigued the young minds by presenting and telling them about the present structure of the UN. He also answered the questions and queries of the students.
The Secretary-General, Ananya Dang, shared the story and instances behind making SYMUNC'17 a huge success, which was filled with tears of laughter and joy and she also motivated the students, with her journey from a participant to the Secretary-General of SYMUNC'17. The conference moved into its first session after it was declared open by the Secretary-General, Ananya Dang for SYMUNC 2017. Ms. Swati Singh, the faculty in-charge of SYMUNC'17 summarized her journey of organizing the last SYMUNC as a completely worth one as they were a national MUN till the last year, but things were different this time as they became international by having delegation from Indonesia as well
SYMUNC 2017 provided a huge platform to aspiring students and young leaders filled with various exciting committees with amazing brainstorming agendas. SYMUNC 2017 included conventional committees; (United Nations Human Rights Council, United Nations General Assembly, United Nation Security Council, All India Political Parties meet) and one Potterhead Committee such as the Ministry of Magic as well as the international Press that worked toward the aptitude of the young reporters, editors, photographers, and cartoonists.
The committees were marked by the presence of the experienced executive board. The 2-day event ended on a huge note along with the prize and award distribution ceremony. Secretary General Ananya Dang, Under-Secretary-General Dhruv Chopra, and all the OC members under the guidance of faculty in charge Mrs.Swati Singh, worked hard day and night to make the event a huge success and a memorable experience.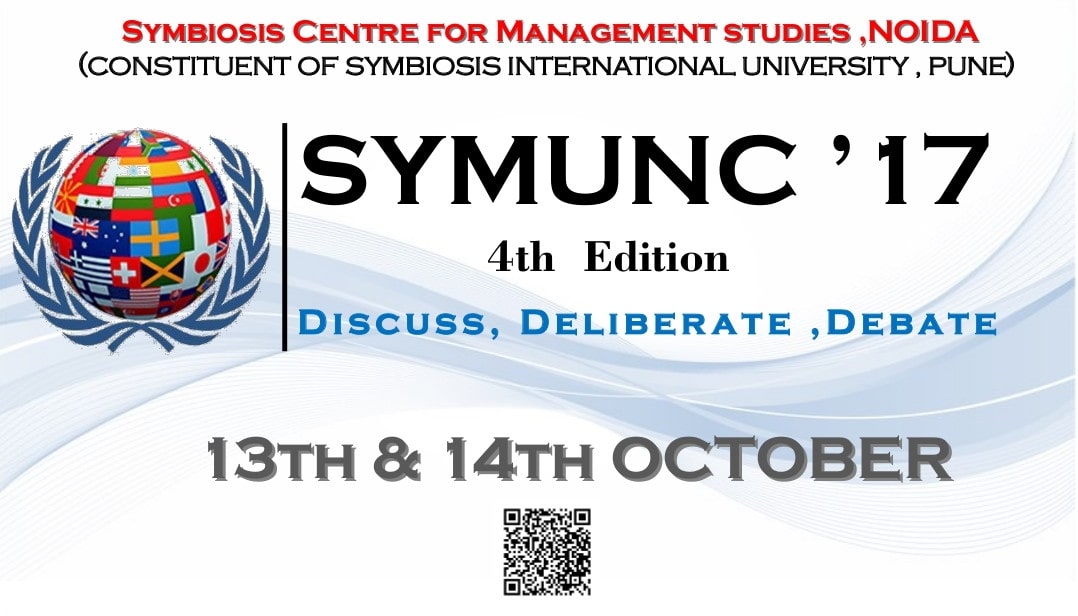 Newsletters Day 1
Newsletters Day 2