International Conference on Changing Dynamics in Global Markets 2016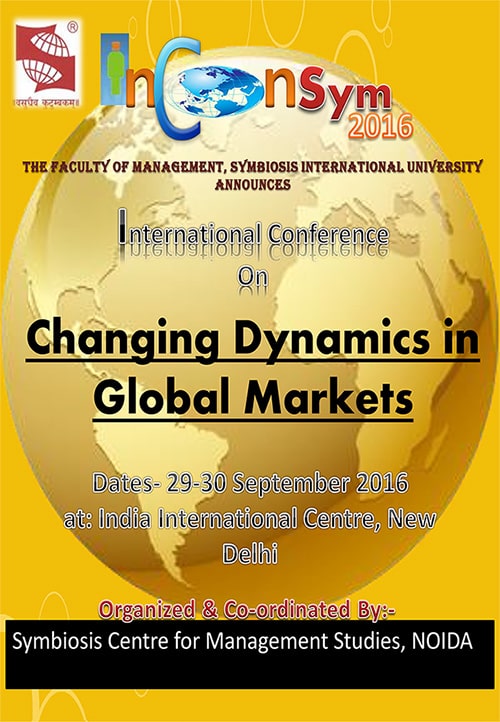 Conference Schedule
Photo Gallery
About The Conference
The modern world as we know it today is diametrically different from the conventional definition. With borders and boundaries losing their significance modern philosophy treats the whole world as a global market. The modern corporate world too has gladly accepted the concept of global market and the services and products that were earlier restricted to a particular geographical area have easily transgressed geographical boundaries.
Globalization as a concept is commonly used for describing the spread and connectedness of production, communication and technologies all over the world. That spread has led to the integration of economic and cultural activity involving the diffusion of diverse ideas, practices and technologies. The advent of e-commerce has made it easy to make one's business truly global in nature but has introduced fresh challenges as well. Globalization according to some has, without doubt, been a hugely positive force for entrepreneurs. By enabling capital, labor, goods and technology to flow freely across borders, it has increased exponentially the commercial opportunities that are available. However, it has also vastly increased the complexity of the business environment, multiplying risks and opportunities, as well as challenges in Global Markets.
In such a globally connected world, an internationally experienced management team with an ability to understand and adapt to varied cultures will be a key to ingredient of success. Fast-growing businesses from the emerging markets are set to challenge the established Western leaders. As the global economy becomes highly networked, Governments across the world are becoming increasingly supportive of the ever evolving world of business enabling them to accomplish what was considered impossible some time ago.
In this context, the Faculty of Management, Symbiosis International University, in its International Conference on "Changing Dynamics in Global Markets" invites theoretical / empirical research papers relating to broad areas of different sectors viewed from a contemporary Global perspective of catering to Global markets. We welcome research papers/articles/case studies from Academicians, Corporates and Doctoral Fellows that advance our understanding of the global scenario thereby providing a platform for productive interaction between the world of Business and Academics. The idea underlying the conference is to offer a platform to the researcher and academic community to come under one roof and discuss their research and issues of concern.
About The Workshop
Pre conference workshop on research methods will be organized on the Day 1 of the conference. This workshop will be conducted by two Eminent International Faculties from Arizona State University (US):
Benjamin Shao, PhD., Associate Professor, Information Systems, Arizona State University, USA.
Zhongju Zhang , PhD., Associate Professor, Information Systems, Arizona State University, USA.