International Conference on Changing Dynamics in Global Markets 2016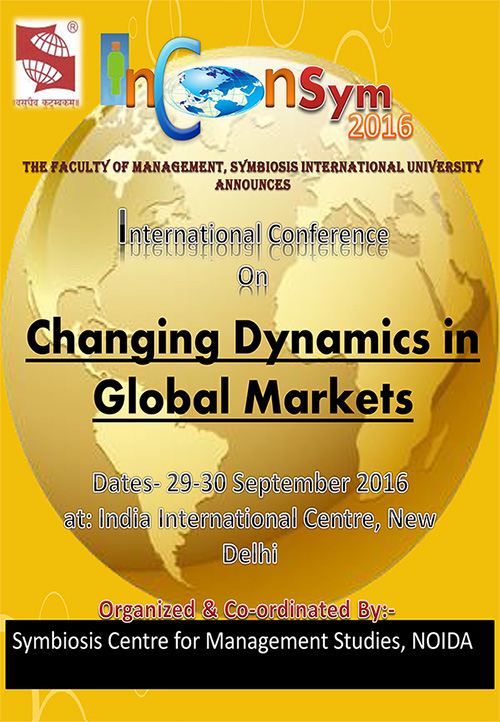 Conference Schedule
Photo Gallery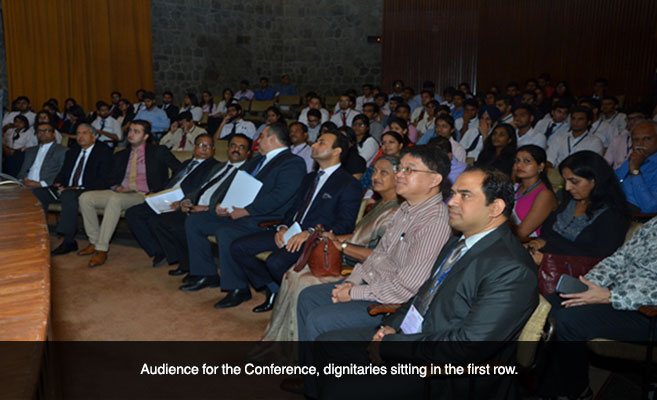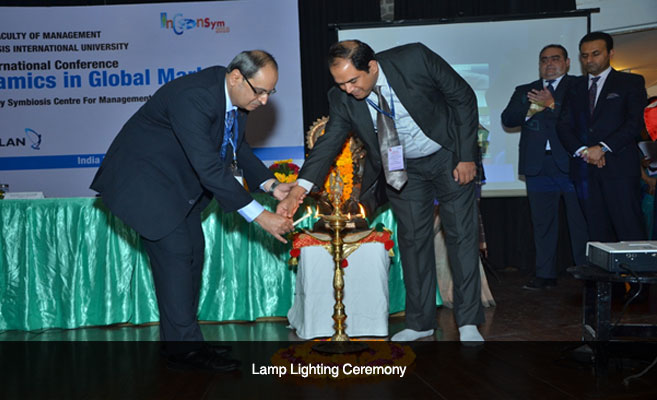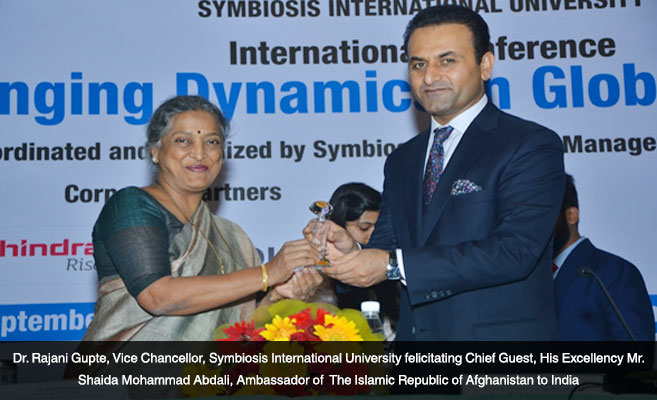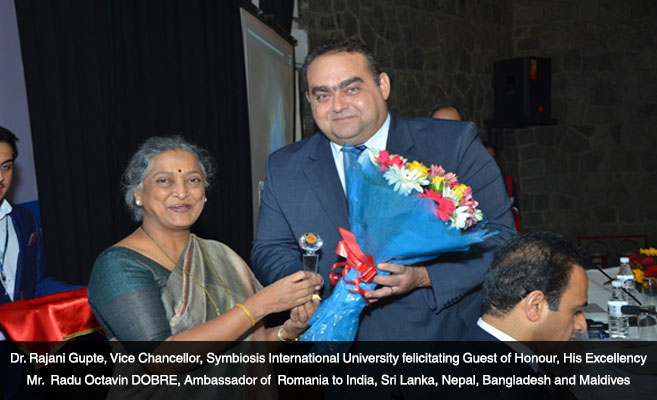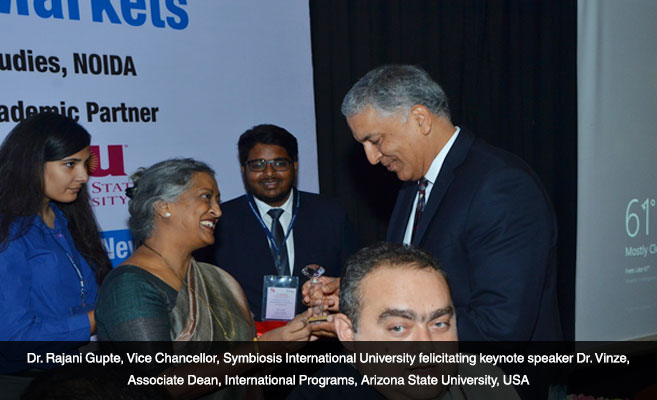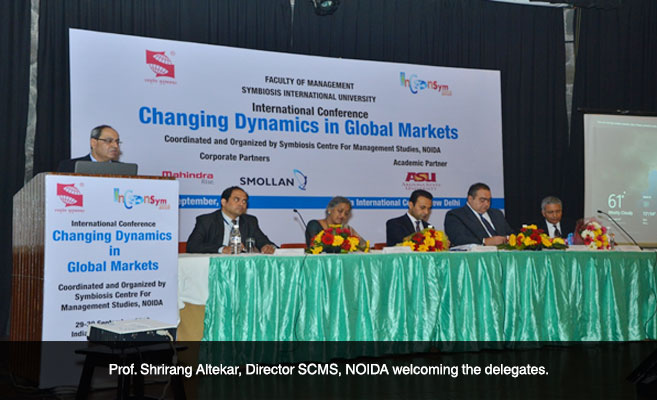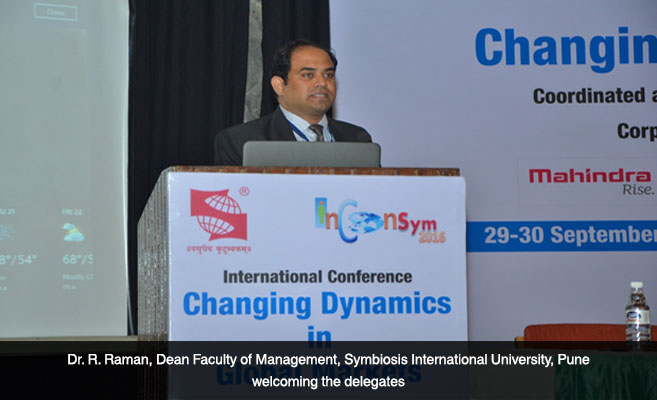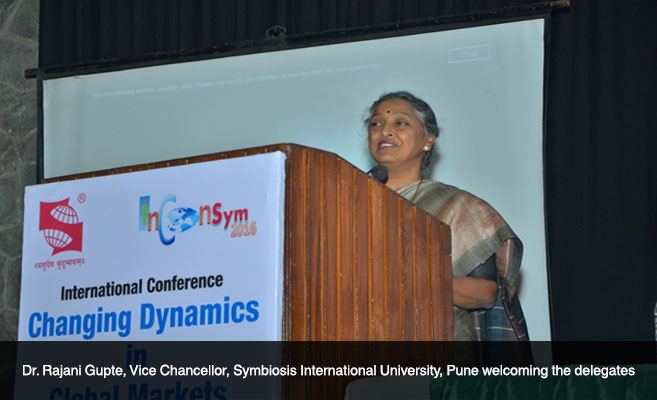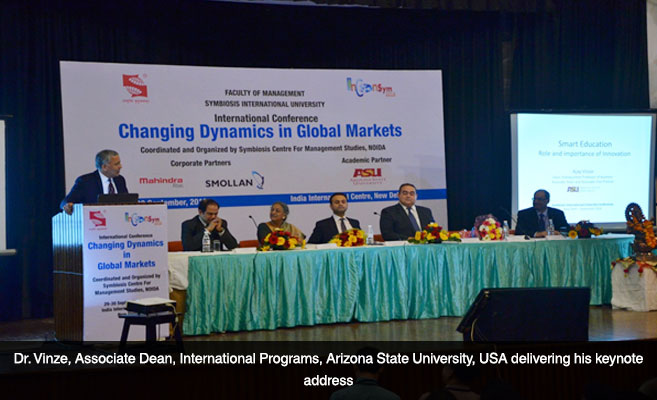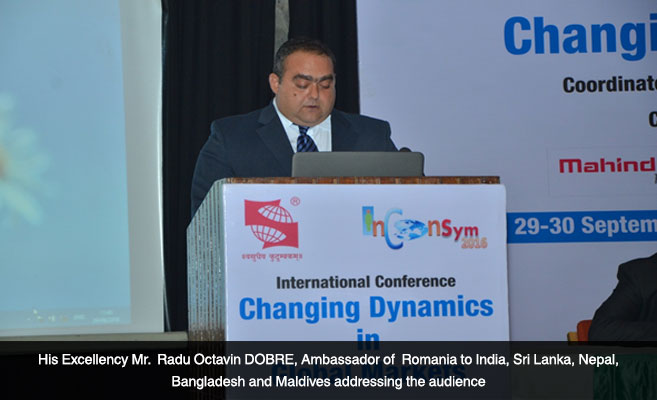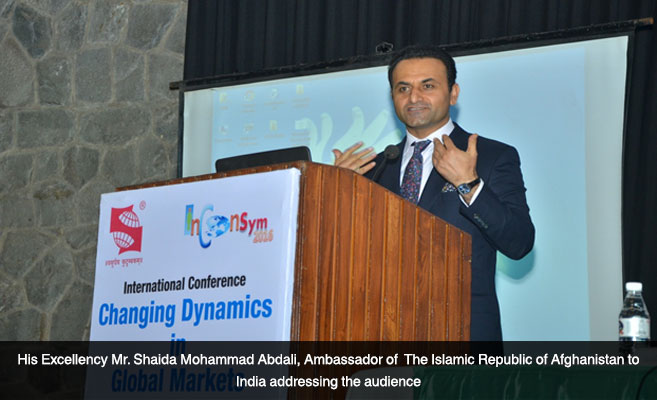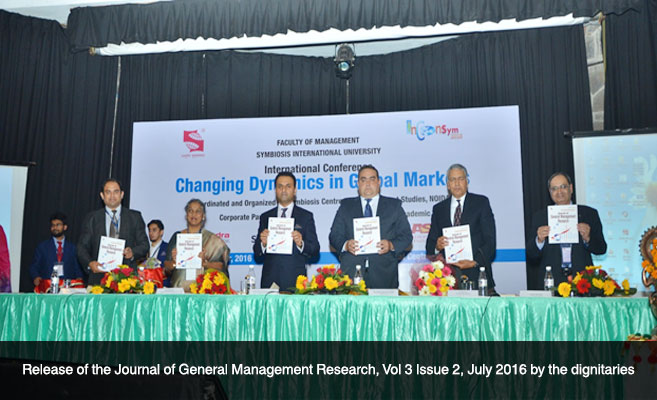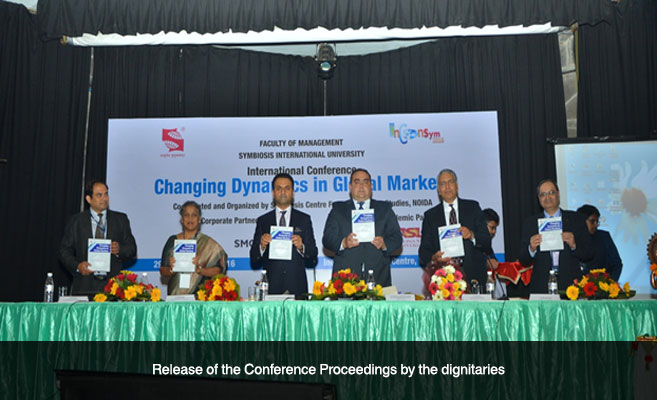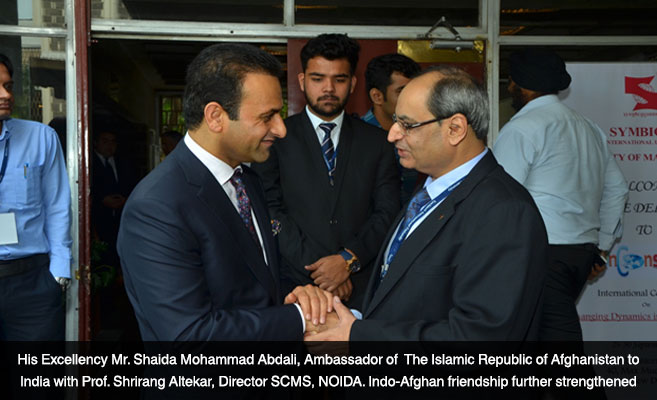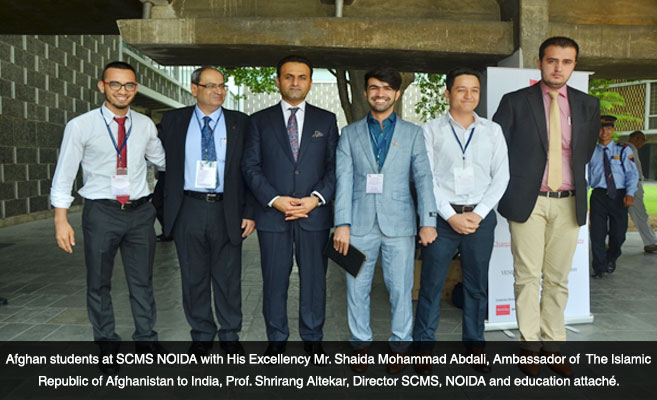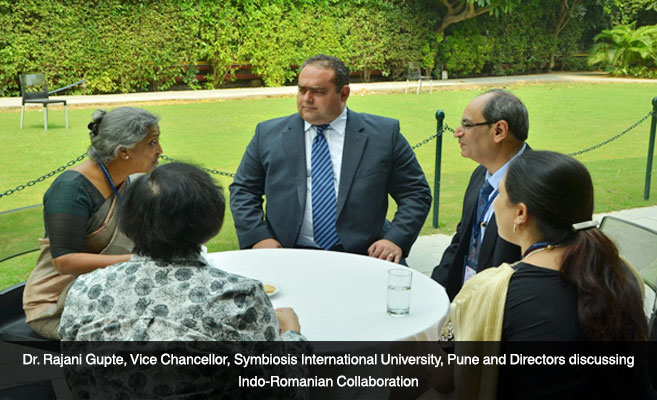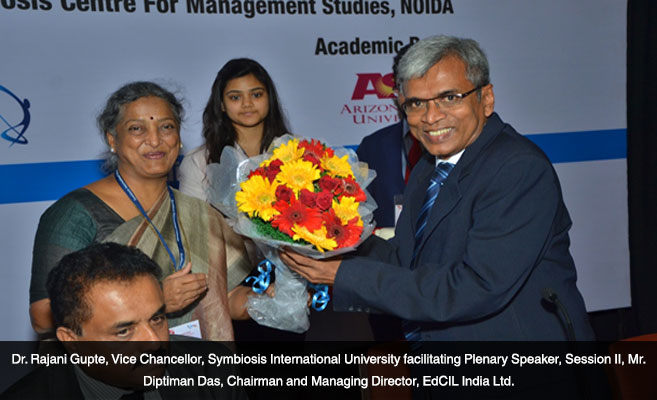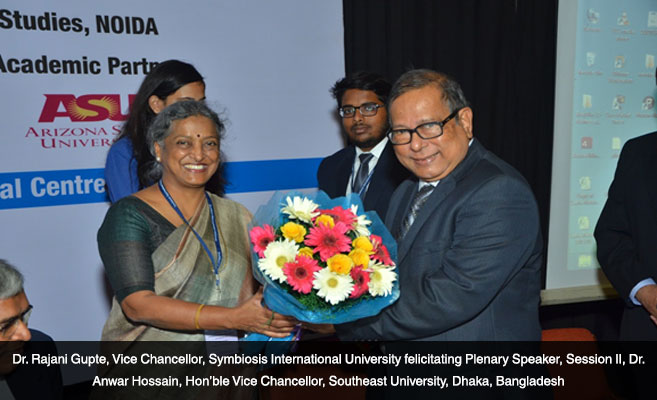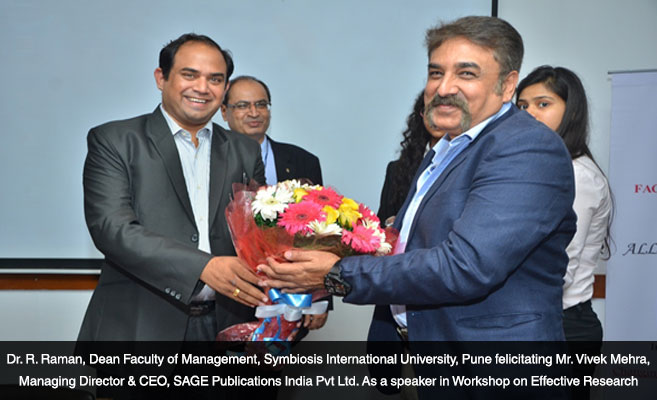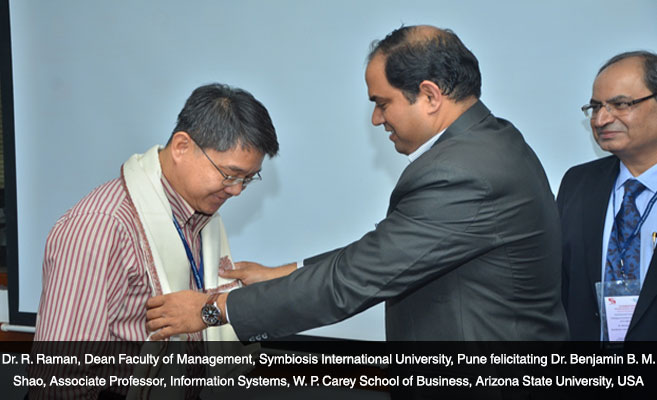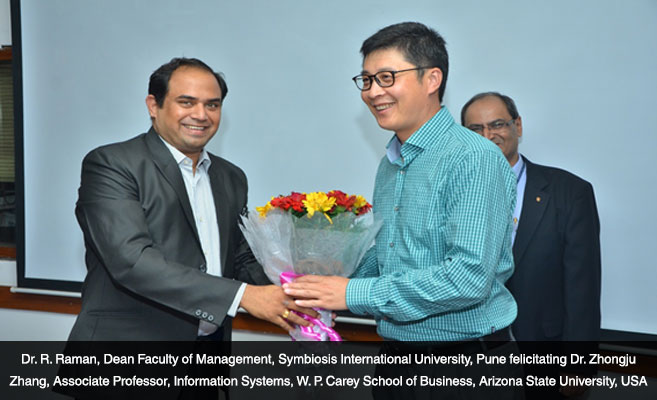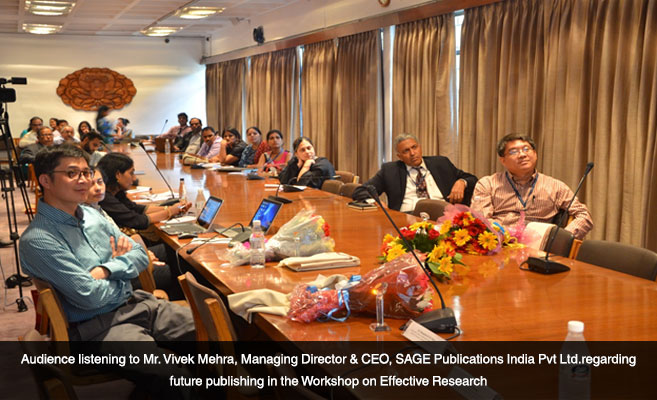 About The Conference
The modern world as we know it today is diametrically different from the conventional definition. With borders and boundaries losing their significance modern philosophy treats the whole world as a global market. The modern corporate world too has gladly accepted the concept of global market and the services and products that were earlier restricted to a particular geographical area have easily transgressed geographical boundaries.
Globalization as a concept is commonly used for describing the spread and connectedness of production, communication and technologies all over the world. That spread has led to the integration of economic and cultural activity involving the diffusion of diverse ideas, practices and technologies. The advent of e-commerce has made it easy to make one's business truly global in nature but has introduced fresh challenges as well. Globalization according to some has, without doubt, been a hugely positive force for entrepreneurs. By enabling capital, labor, goods and technology to flow freely across borders, it has increased exponentially the commercial opportunities that are available. However, it has also vastly increased the complexity of the business environment, multiplying risks and opportunities, as well as challenges in Global Markets.
In such a globally connected world, an internationally experienced management team with an ability to understand and adapt to varied cultures will be a key to ingredient of success. Fast-growing businesses from the emerging markets are set to challenge the established Western leaders. As the global economy becomes highly networked, Governments across the world are becoming increasingly supportive of the ever evolving world of business enabling them to accomplish what was considered impossible some time ago.
In this context, the Faculty of Management, Symbiosis International University, in its International Conference on "Changing Dynamics in Global Markets" invites theoretical / empirical research papers relating to broad areas of different sectors viewed from a contemporary Global perspective of catering to Global markets. We welcome research papers/articles/case studies from Academicians, Corporates and Doctoral Fellows that advance our understanding of the global scenario thereby providing a platform for productive interaction between the world of Business and Academics. The idea underlying the conference is to offer a platform to the researcher and academic community to come under one roof and discuss their research and issues of concern.
About The Workshop
Pre conference workshop on research methods will be organized on the Day 1 of the conference. This workshop will be conducted by two Eminent International Faculties from Arizona State University (US):
Benjamin Shao, PhD., Associate Professor, Information Systems, Arizona State University, USA.
Zhongju Zhang , PhD., Associate Professor, Information Systems, Arizona State University, USA.
Accommodation
Accommodation can be arranged on payment basis to a limited number of participants on first come first serve basis. Depending on the availability of rooms, accommodation can be arranged on single /twin sharing basis. The details of the same will be forwarded on receipt of enquiry.
Call for Papers
Empirical/Conceptual research papers and Case studies are invited on the following sectors which are currently impacting the dynamics of global markets or likely to do in the future.
Oil, Gas & Power Sector
Automobile Sector
Consumer Goods
Banking and Financial Services
IT & Telecom
Medical
Aviation
Apparels and Fashion
Tour and Travels
Abstract Guidelines
Abstracts (200-250 words) should be in the following manner:
Paper Title
Author(s)
Affiliation with email ID and cell
Purpose
Design/Methodology/Approach
Findings
Research Limitations/Implications
Originality/Value
Keywords (Up to 4 to 5 in alphabetical order)
Conference Benefits
Publication Opportunity
International Journal of Emerging Markets (Scopus, ABS & Emerald, UK) has sponsored a best paper certificate and fast tracking publication for best papers.
Few best Case Studies will be published in the form of a book by Thunderbird School of Global Management, US after screening by the Thunderbird Team.
Few best papers will be published in an internationally indexed journal published by Arizona State University (Currently being finalized), US after double blind review by the Journal reviewers.
Ten papers will be published in the special issue of Journal of General Management Research (ISSN: 2348-2869) (online ISSN: 23485434).
The remaining papers and abstracts will be published in the conference proceedings.
Awards
Cash prizes of Rs. 5000/- (Five Thousand) will be given to the best paper presenters of each technical session.
Important Dates
| | |
| --- | --- |
| Abstract submission | April 30, 2016 |
| Notification of acceptance of the abstract | May 5, 2016 |
| Submission of full length papers | July 1, 2016 |
| Acceptance notification for Presentation | July 31, 2016 |
| Pre Conference Workshop | September 28, 2016 |
| Conference Dates | September 29 & 30, 2016 |
Mentors
Chief Mentor
Padma Bhushan Prof. (Dr.) S.B. Mujumdar
Founder and President, SYMBIOSIS
Hon'ble Chancellor, Symbiosis International University (SIU)
Mentors
Dr. Vidya Yeravdekar, Principal Director, Symbiosis
Dr. Rajani Gupte, Vice Chancellor, Symbiosis International University, Pune
Advisory Committee (being expanded to include eminent international scholars)
Dr. Bhama Venkataramani, Dean, Academics and Administration, Symbiosis
Dr. T.P. Singh, Director SIT, Pune
Amb. Sudhir Devare, Former Secretary, Ministry of External Affairs, Government of India
Ajay Vinze, Ph.D., Davis Distinguished Professor of Business & Associate Dean International Programs Associate Vice Provost - Graduate Education, W.P. Carey School of Business, Arizona State University
Dr. Anwar Hossain,Vice Chancellor, Southeast University, Dhaka, Bangladesh
Dr. Badar Alam Iqbal, Professor, Department of Commerce, Aligarh Muslim University, India and Adjunct Professor, Monarch Business School, Zug, Switzerland
Dr. Kanhaiya Singh, Professor, Fore School of Management, New Delhi.
Convenor
Dr. R. Raman (Dean, Faculty of Management, SIU)
Organizing Secretary
Dr. Shrirang Altekar
(Director, Symbiosis Centre for Management Studies, NOIDA)
Organizing Committee
Dr. Anubha Vashsiht
Dr. Kriti Priya Gupta
Dr. Bharti Wadhwa
Dr. Harshit Maurya
Ms. Nidhi Phutela
Registration Fees
Registration Fees for Conference
| Delegate Type | Indian Delegates (INR) | International Delegates (USD) |
| --- | --- | --- |
| Corporate Participants | 3500 | 50 |
| Academicians | 3000 | 45 |
| Doctoral Fellows/Students | 1500 | 25 |
| Participation Fees | 1000 | 15 |
Registration fee includes registration kit, conference proceedings, tea and lunch. It does not include accommodation and transport charges.
Registration Fees for Workshop
| Delegate Type | Indian Delegates (INR) | International Delegates (USD) |
| --- | --- | --- |
| Workshop | 2000 | 30 |
Participants can register themselves in conference and workshop both by paying Rs. 4500 only.
Research Scholars can register themselves for workshop and conference by paying Rs. 2000.
Mode of Payment
Offline Mode:
Demand Draft in favor of 'SCMS NOIDA', payable at NOIDA should be sent to the following:
Symbiosis Centre for Management Studies, NOIDA
Constituent of Symbiosis International University, Pune
Block 'A' Plot No. 47-48, Sector-62, NOIDA-201301
Online Mode:
A/C Holder Name: SCMS Receipt A/C
Bank Name: Bank of India
Bank Address: Sector 62, NOIDA
Bank A/C No: 712210210000013
IFSC Code: BKID0007122
Concessional Offers
Group concessions:
4 for the registration of 3 members
7 for the registration of 5 members
10 for the registration of 7 members
Concession for members of SCMS NOIDA Research Group (SRG):
All the participants of previous conferences organized by SCMS-NOIDA shall be eligible for the membership of the SCMS NOIDA Research Group (SRG). They can avail a concession of 10% on the registration fees. To get this concession, the participants have to register with their SRG membership number.