National Level Inter-School Essay Writing Competition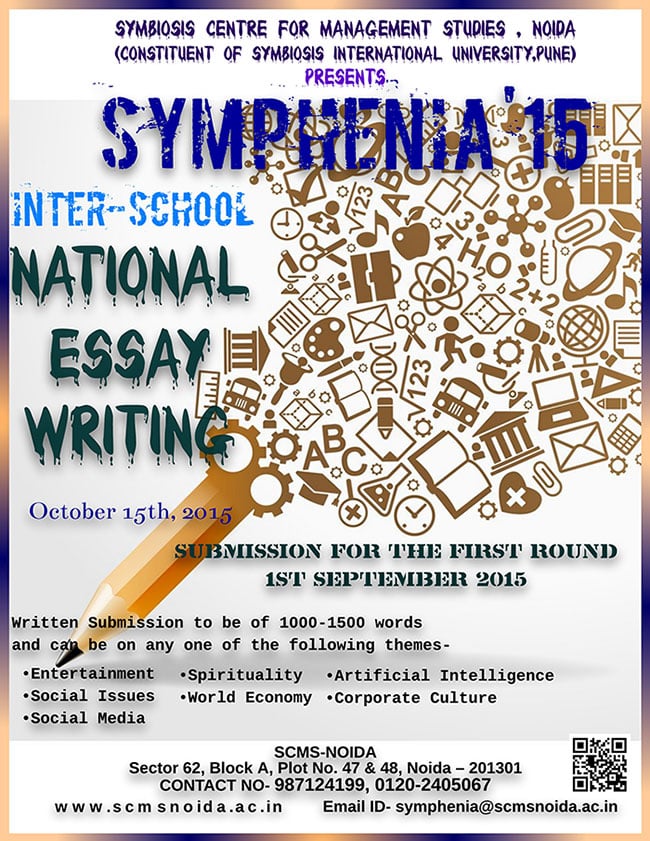 Structure of the Competition:
The Essay Competition consists of two rounds: First round and Final round
For the first round, written submissions on a topic under any of the themes given below are required:

Entertainment
Social Issues
Spirituality
World Economy
Artificial Intelligence
Corporate Culture
Social Media
The written submissions for the first round should be delivered to SCMS-NOIDA through post or through e-mail, by 1st September, 2015.
Postal Address: Symbiosis Centre for Management Studies
Block A, Plot No. 47, 48
Sector 62, NOIDA-201301
E-mail ID: symphenia@scmsnoida.ac.in

Best 3 essays will be selected from each school after the first round.
The selected participants will be invited for the final round wherein they will have to write essays on a topic provided at the time of the competition. The final round will be held in our Inter-School Fest 'Symphenia' on 15th October 2015 and the results will be declared on the second day of the fest, i.e. 16th October, 2015.
Guidelines for written submissions of essays for first round:
The essay should be written in UK English.
Only original essays will be considered for the competition. Previously published essays are excluded. Any form of plagiarism will result in disqualification of the essay.
Length of essay should be 1000-1500 words including footnotes.
Format Requirement: Typed on A4 size electronic page
Font size shall be 12 points
1.5 interlinear space
Margins of 1.5" on top, bottom and both sides

There should be a cover page including name of the Participant, Address, E-mail ID, Contact Number, Name of the School with address and email id. If the submission is made through e-mail, the subject line of the e-mail should be "Submission for Essay Writing Competition".
Evaluation Criteria for the essay:
Following criteria will be used in assessing the essay:
Choice of the topic: 10%
Content – Originality: 50%
Language and Grammar: 20%
Structure: 20 %
Prizes:
SCMS-NOIDA will honour all the winners (I, II and III) with Trophies.
All participants will be awarded a certificate of participation.