Internationalization
Overview
Symbiosis Centre for Management Studies, NOIDA believes in promoting international understanding through quality education. The institute has students from various countries worldwide who have taken admission to BBA course. To mention a few, students from UK, UAE, Afghanistan, Nepal, Saudi Arabia, Qatar, Nigeria, Uganda, Tanzania, Singapore, Oman and Hong-Kong have either pursued or are pursuing their BBA course from SCMS NOIDA.
SCMS NOIDA has partnered with International Universities to promote various forms of academic collaborations. The Institute has collaborations with Universities in France, Germany, UK, Australia and USA. Some of the universities where the students of the institute have gone for summer schools or semester abroad programs are DHBW, Germany, Berlin School of Economics and Law, Germany, Dauphine University, France, University of British Columbia, Canada, Deakin University, Australia, Leeds Beckett University, UK, London Business School and IESEG School of Management, France.
Programs offered
Global Immersion Program
Students get an opportunity to study abroad for a semester at the University of their Choice. The students are encouraged to study abroad for a semester, attend summer schools, internships with our international partners.
Semester Abroad Program
Students are given an opportunity to study at the host university with mutual recognition of the credit hours arising there from. The University follows the Cumulative Grade Point system which gives flexibility for transfer of credits.
Summer Schools
Students attend summer schools in foreign universities usually lasting for two to four weeks, normally held in spring or summer. Summer Schools give them an opportunity of gaining international experience. This International experience while pursuing studies is getting increasingly important on the job market. SCMS NOIDA also gives the benefit of transfer of credits.
Research Initiatives
Good quality research papers by our eminent faculties have been published in various international journals of repute. Our faculties have also written books on various management issues that have been published by international players like Emerald and IGI Global. The institute also organized an international conference, INCONSYM 2020 from Feb 20-22,2020 with the theme, "Business Transformation in the Global Digital Era: Re-innovate, Re-strategize, Re-model". The international conference was a huge success with large pool of academicians, researchers, practioners and corporate professionals sharing their research in the field of emerging practices in digital era and strategies to grab the opportunity.
For Admission queries, please Click Here.
Gamification In Sports In The Current Digital Era
The Internationalization Cell of SCMS NOIDA organized a webinar on 1st December 2020 titled, "Gamification in sports in the current digital era". The speaker who enlightened students with his enriched knowledge and experience was Mr Slavko Alčaković. The webinar was attended by the students across all the specialization and batches.
Mr Slavko Alčaković is currently holding the position of Vice Dean, Faculty of Physical Education and Sports Management, Singidunum University, Serbia. He teaches subjects in the field of marketing like internet marketing and research, etc. His academic interest is in the field of digital marketing, neuromarketing and consumer behaviour etc. He is the owner and chief editor of advertising portal Lumiere. He is also a lecturer of ERP SAP Module, sales and distribution and certified NLP practitioner.
This webinar was a part of the Global Talk Series on "Management Practices in Industry 4.0" initiated by Internationalisation cell at SCMS, NOIDA to broaden the horizon of the students holistically on management practices in Industry 4.0.
Mr Slavko Alčaković began his session by talking about his interest areas. He intimated the students about the topics they were going to cover during the course of the event. The session was started by giving a brief introduction to sports. He also discussed the unpredictability of a game which makes a viewer excited, tensed etc. The speaker threw light on today's scenario that how tablets, smartphones and pads are becoming the emerging sports content platform. Mr Alcakovic also took the help of some statistical tools to present the concept of an increase in the viewership of sports matches at the online platform in a short and crisp manner. He further discussed the top average weekly time spent with app categories in which social media was ranked at 1st position followed by Gaming communication and Music.
Moreover, throughout the session, the speaker emphasized more on the concept of gamification. After describing all this, the speaker explained the concept of Gamification, it's origin and provided the students with a great piece of knowledge. In the end, he explained to students the reason behind the success and popularity of video games in today's world.
The session ended with a question-answer round where students asked several questions to kindle their curiosity. The enthusiasm of the students was clearly visible at the time of Q/A round.
Photographs of the webinar are: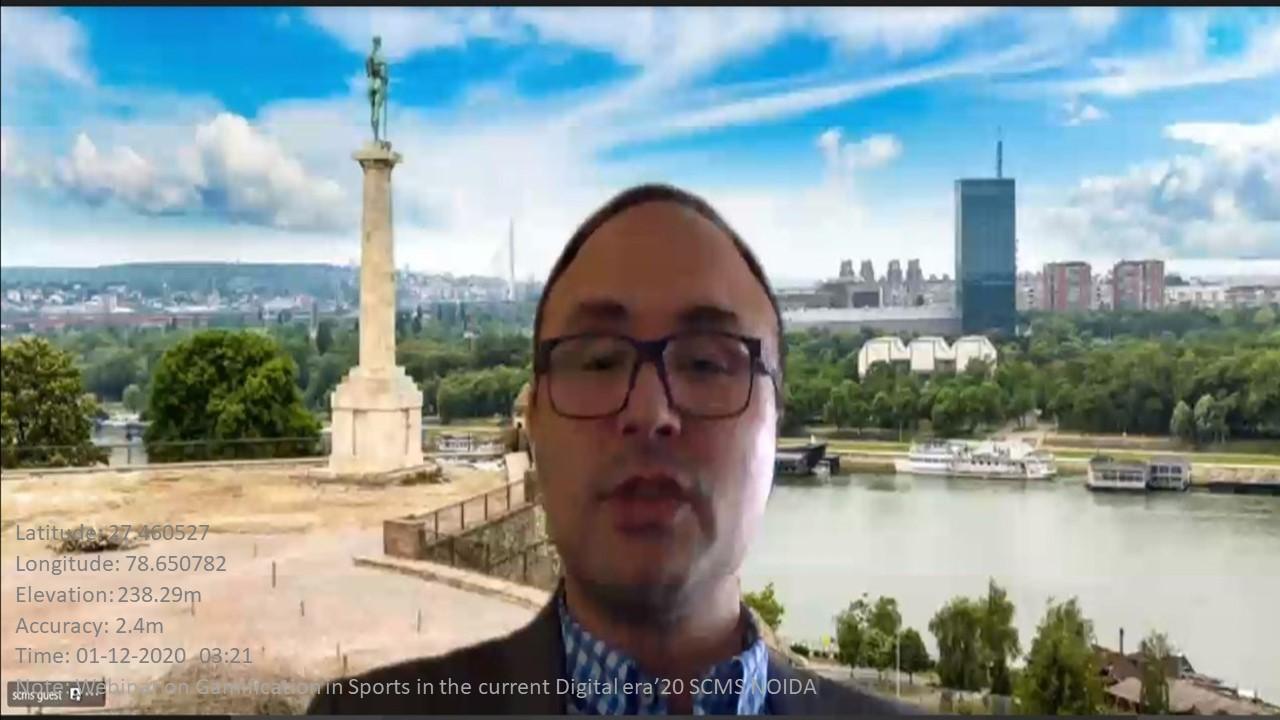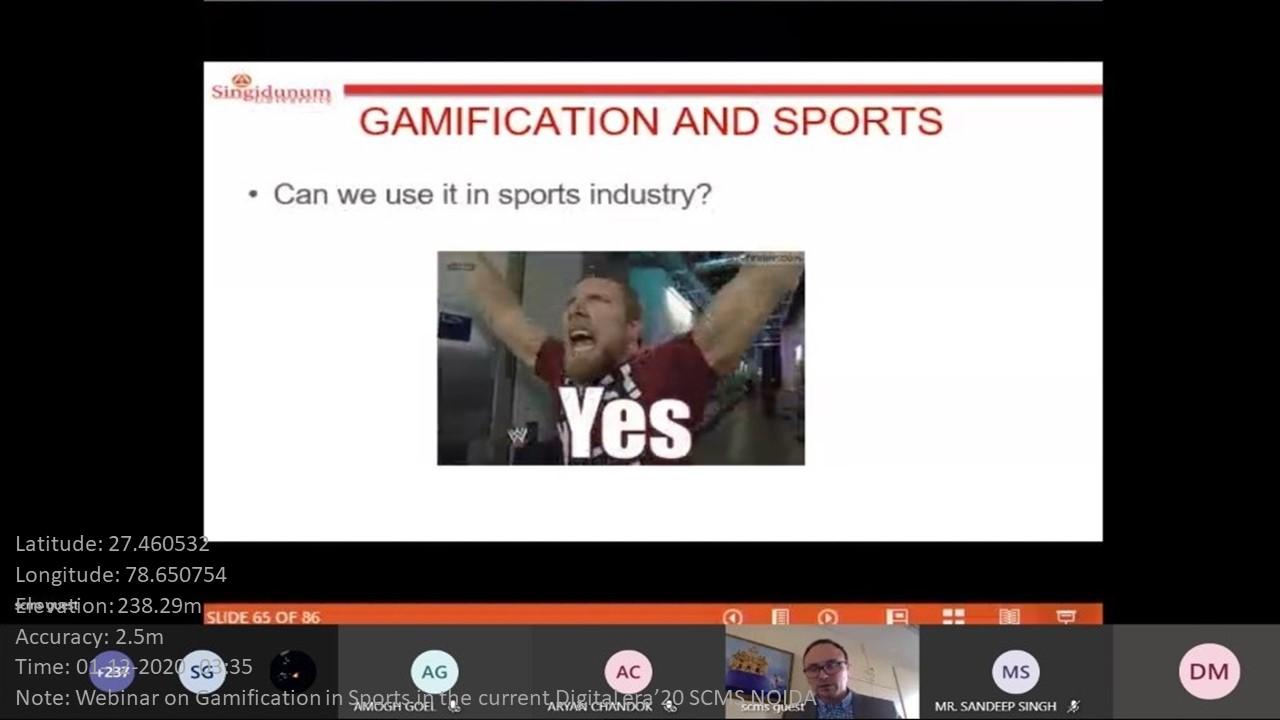 Webinar on Predictive analytics in the everyday business world: A machine learning perspective
On Wednesday 18 November 2020, the Internationalization Cell of SCMS, NOIDA organized a webinar on "Predictive analytics in the everyday business world: A machine learning perspective" at 10:00 AM for students of all the three batches 2018-21, 2019-22 and 2020-23. The webinar was a part of the "Global Talk Series on Management Practices in Industry 4.0".
Mr. Eric Siegel, the founder of Predictive Analytics World and Coursera was the guest speaker for the event who is also an ex- professor at the University of Columbia, United States.
The speaker commenced his session by setting up an agenda for the session which was basically about Introduction to Predictive Analytics, how it delivers value while targeting the market and targeting retention followed by how it works (the prediction effect and data entry). To explain the concept of predictive analytics in a less complicated manner he took a live example of Barack Obama in 2012 US presidential elections. The speaker explained to students as to how Barack Obama used predictive analytics for forecasting his chances of winning the elections. Then he explained the relation between predictive analytics and machine learning, and how they are different from each other. The speaker also gave a brief view of the relation between big data, data science with the help of Venn diagram. He further explained how data plays a vital role in predictive modeling and how it helps in forecasting followed by the concept of data entry where he explained the decision tree, customer attrition and antidote to information overload: prediction by giving the example of several organizations like "GOOGLE for search results, NETFLIX for movie/series recommendation, FACEBOOK for news feed, AMAZON for recommendations, etc.".
The discussion was followed by a Question and Answer round where the students were given an opportunity to clarify their doubts and queries and to interact with the guest. There was an active participation of students in the event which was clearly visible in the round. Some of the questions asked by the students were about the scope of analytics with non-tech subjects, how predictive analytics will revolutionize the whole e-payments ecosystem and how will it change the existing cash flow. The session ended with a vote of thanks from The Internationalization Cell of SCMS, NOIDA.
Following are some of the pictures from the event.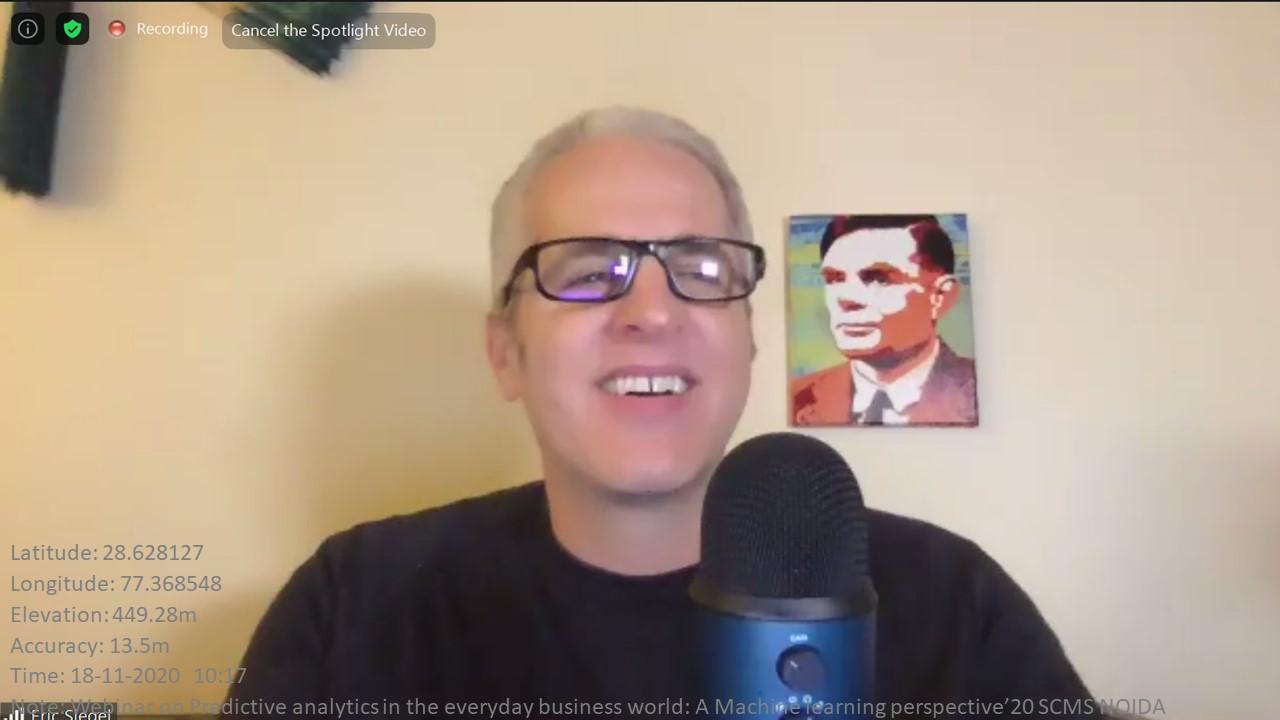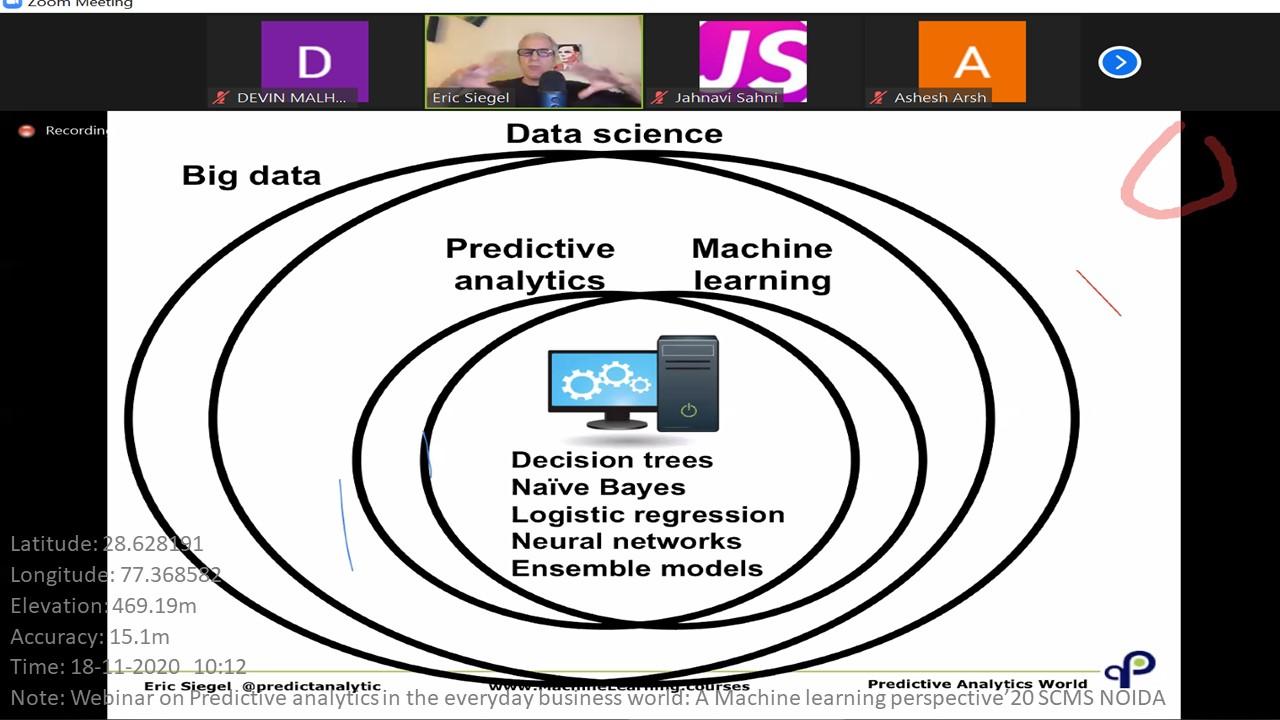 International Students Day Celebration
Symbiosis International (Deemed University) is the brainchild of our Honourable Chancellor, Prof. Dr. S. B. Mujumdar, a distinguished academician & educationist, whose vision has blossomed into a hub of higher education, attracting scholars from various parts of the globe. This year, on July 31, we celebrate this day as International Students Day on his Birthday to commemorate his extraordinary services. To mark this occasion, the Internationalisation department at SCMS,NOIDA has organised a webinar on "Internationalisation of Higher Education: Way forward on July 31,2020 at 3:00p.m.(IST). We are honoured to have Mrs.Reeta Narang Sood, Civil Servant, UK Government and Dr.Geoffrey Clements,Chairman,Commonwealth Infrastructure Partners as speakers sharing their immense knowledge and experience and guiding us on the way forward to Internationalization of Higher Education. After the webinar, team SCMS, NOIDA is also invited to plant saplings and pledge our continuous commitment to a sustainable environment.
Webinar On Airline And Travel Management In A Digital Era
The Fourth Industrial Revolution (or Industry 4.0) is the ongoing transformation of traditional manufacturing and industrial practices combined with the latest smart technology. This primarily focuses on the use of a large-scale machine to machine communication and the internet of things deployment to provide increased automation, improved communication and self-monitoring, and smart machines that can analyse and diagnose issues without the need for human intervention.
On Sept.10th,2020, the Internationalization Cell of SCMS NOIDA organized a webinar on the topic "Airline and Travel Management in a Digital Era" as part of the Global Talk Series on Management Practices in Industry 4.0. Ms. Barbara Wohlfarth, Founder, Reiserezept GmbH, presided over the event. She owns a Travel Agency in Switzerland called Reiserezept GmbH, which was started back in 2018. She has been in the travel industry since 2000 and has 18 years of business travel experience.
Ms. Wohlfarth began her discussion by giving a brief on the history of travel around the globe. She spoke about the inter-rail ticket in Europe and various other trails that were used to travel such as Shoestring (Europe to southeast Asia) and the Banana pancake trail which went onto East Asia into countries like Thailand, Cambodia, Vietnam, and Laos. She gave insights into the Computer Reservation System (CRS) and how it was introduced and how it prevails now. She explained the technological developments in the travel and tourism sector about how Alexa air tickets can be booked with voice command through Artificial Intelligence, how Google grew and established itself in the past 10 years from showing hotel prices, flight details, and prices and now established Google trips in 2019. She explained beautifully how AI is taking over the technological world and how it is providing companies and industries with data. She also gave valuable insights on the impact of Covid-19 on the industry and what the future has in store regarding the same.
She spoke about the prevalence of the NDC (New Distribution Capability) program and how it will enable the travel industry to transform the way air products are retailed to corporations, leisure and business travellers, by addressing the industry's current distribution limitations: product differentiation and time-to-market access to full and rich air content and finally, transparent shopping experience. It provides the opportunity to address the end-to-end airline distribution process, e.g. shopping, booking, etc., and to deliver enhanced customer experiences. It helps gain more profit for the airlines and currently preparing business models for them.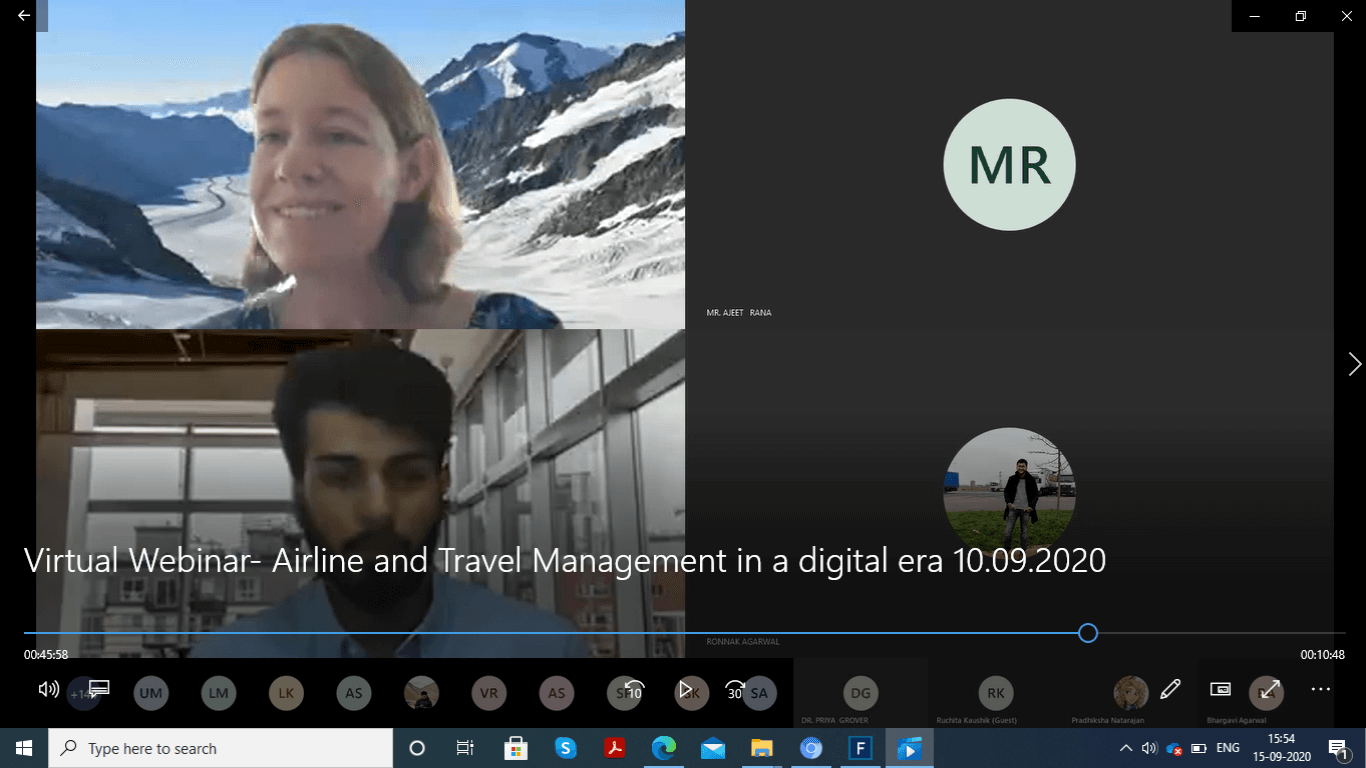 Webinar On "Industry 4.0 impact on lean and agile production systems"
In logistics, waste significantly impacts the bottom line. Whether it's in using inferior materials or inefficient manufacturing processes, wasted resources need to be identified, and resolved for a company to be profitable. This is where lean and agile productions come into place. Determining the source of waste and then activating a lean or agile production process can save any company money, resources, and increased profitability.
The Internationalization cell at SCMS NOIDA has initiated this year's global talk series on Management Practices in Industry 4.0. The objective of the series is to broaden the horizon of students holistically on management practices in Industry 4.0 and expose them to current knowledge and appropriate skills required globally in Industry 4.0
On October 12th 2020, a webinar was organized on the topic "Lean and Agile Production Systems" as part of the Global Talk Series on Management Practices in Industry 4.0. The Institute has invited Mr. Brett Griffiths, Managing Director, Lean Transition Solutions Ltd., UK as the speaker who enlightened the students with his enriched knowledge and experience.
He started his lecture by giving a brief introduction to the Lean manufacturing process. While also giving our students some insight into the differences between lean and six sigma and how very few companies can implement it in industry 4.0, only 5/10 companies know about industry 4.0 yet only 1/10 know the industry 4.0 enablers. He beautifully explained the three phases of a Lean Industry 4.0 i.e. Manufacturing Process Audits, Continuous Improvement and Fostering Communication. He spoke about how the industries are becoming well planned and are managing proactive changes and the impact of digital technology and industry 4.0 on the ripple effect and supply chain risk analytics
The students were curious to ask questions to which he responded with extreme sincerity showcasing his knowledge and experience. It was undoubtedly a very knowledgeable webinar.