About Internationalisation Cell
Internationalization Cell, SCMS NOIDA believes in cultivating, nurturing, and fostering international exposure through education of high excellence and eminence. By creating a higher education center where scholars from all across the globe are appreciated, respected, and embraced with open arms, the cell tries to put its vision into practice.
Since its establishment and inception, the Internationalization Cell has been actively involved and invested in engaging with international speakers. Besides, the Internationalization Cell has also organized a number of webinars on topics such as Fintech and Digital Transformation, Industry Impact 4.0 on International Trade, Emerging Leadership Styles in Industry 4.0, and many such other intriguing and engrossing topics, under its global talk series initiative. Global Talk Series is an initiative taken by the Internationalization cell at SCMS NOIDA to strengthen, diversify and deepen the spectrum of the students in industrial management practices.
The institute's BBA course has an enrolment of students from numerous ethnicities and cultures. University of British Columbia Canada, Berlin School of Economics and Law Germany, DHBW Germany, Dauphine University France, are among some of the many colleges for summer school or semester abroad programs.
In the future, the cell strives to collaborate with universities to promote holistic international education and to conduct various events at the international stage to familiarize students with the skills needed to work in an international environment.
GOALS
Our aspiration lies in providing an equal and fair learning atmosphere that celebrates and incorporates diversity by supporting, assisting and educating students, staff, and our community, making them well informed, knowledgeable and respectful citizens of a global society
OBJECTIVES
1. To nurture a sense of cultural understanding and evolving global citizens.
2. To holistically enhance and broaden the students' horizons on management activities.
3. To provide exposure to students regarding the current knowledge and relevant skills required globally.
4. Initiate Joint Academic and Research programs with International Universities.
International Collaborations
ASTON UNIVERSITY
Located in the center of Birmingham, which is among the most dynamic and thriving areas of the United Kingdom, Aston University endeavors to become the UK's leading university for students who have an inclination towards careers in business and other related professions. Offering a reliable and accommodating environment for the students from over 120 countries who chose to study here, Aston University enables the learners to get a profoundly diverse and multicultural experience.
Our international university network is framed by many high-ranked, quality institutions to develop international competencies among our students.
Membership
The Students, Research Scholars, Staff and Faculty member of the SCMS NOIDA can avail the Knowledge Resource Centre facilities. First step to register with the Knowledge Resource Centre (KRC) as a member by filling the membership form available at help desk (along with passport size photograph). Registered users are privileged to access e-resources within campus and also outside the campus anytime anywhere
Rules For Membership
Users are requested to carry their ID card every time they visit the library it is required for borrowing books from the library. Users will get SMS and Email alert from the library system at the time to check out and check-in on books. In case of delay in getting SMS or Email alert, please contact the Librarian immediately. KRC system also generates reminder SMS and Email on the due date of the books. Users are advised to return the books to the KRC on or before due date.
In case of delay in returning of books, an overdue fine of Rs. 5 per daybook will be charged.
Book Renewal: Two times to be renewed in a month.
Semester Abroad Program
SEMESTER EXCHANGE
SCMS NOIDA provides students with the exclusive chance to study, for a whole semester, at the host college with a shared recognition. They enjoy the privilege of interacting with international students of different cultural backgrounds and enjoy doing practical teamwork with them including various fun activities like cultural programs, field trips and excursions, team presentations, and most important of all, The Graduation Day, where students get to experience their graduation abroad in a different country with international students. Furthermore, as a Cumulative Grade Point system is followed by the university, it provides the flexibility for transferring the credits.
SEMESTER EXCHANGE INITIATIVES
Students of SCMS NOIDA were provided with an opportunity to study for a whole semester at DHBW Ravens burg. Exchange students are enrolled in an International Study Program offered by DHBW that usually lasts up to 12 weeks, taught entirely in English. They attend a combination of lectures and interactive sessions with the German students as well as study courses developed exclusively for them. DHBW is known for its unique and constant interlinking of academic studies with application-based learning in thus enabling students to have a practical experience.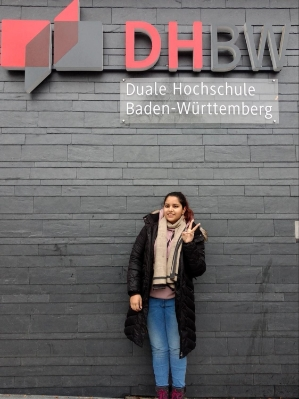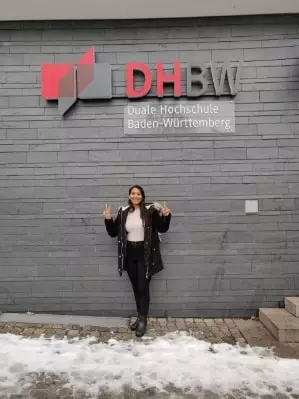 IESEG SCHOOL OF MANAGEMENT, FRANCE
Students of SCMS NOIDA were provided with an opportunity to study for a whole semester at IESEG School of Management, France. IESEG's main campus is located in the heart of the breathtaking city of Lille, which is known for its vibrant environment. IESEG offers both semester exchange programs as well as summer school programs where students not only get the chance to gain academic knowledge and practical experience but also become a member of an extraordinary community for future business leaders.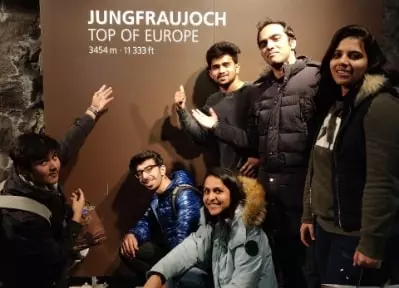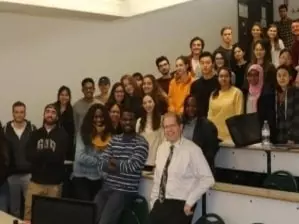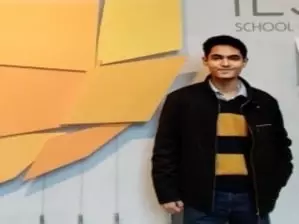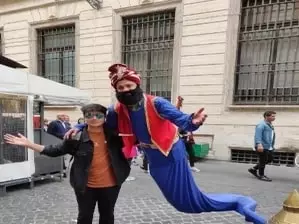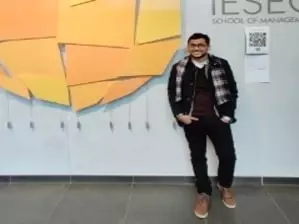 Library Services And Facilities
Online Public Access Catalogue (OPAC)
Online Public Access Catalogue (OPAC) can be accessed on the internet and intranet to search all the records available in the SIU Library database through a web-based search interface. OPAC also provide information about new arrivals of Books, Journals, Magazines etc. The Web OPAC can be accessed at (http://symbiosis-koha.informindia.co.in/)
Library Portal
Knowledge Resource Centre, SCMS NOIDA All the procured e-resources can be accessed through the Library Gateway Portal at (https://library.siu.edu.in/)
Inter-Library Loan (ILL) And Resource Sharing Facility
The Library arrange Books and Journal from all institute library on Inter-Library Loan (ILL). The Library is also a member of DELNET and utilizes its service
Book Bank
The Institute provide book bank facility to the students as course material kits for the entire semester.
Question Bank
Question papers of the previous examinations are preserved by Knowledge Resources Centre.
COIL Course on Cross-Cultural Management
In collaboration with Amsterdam University of Applied Sciences
"We need diversity of thought in the world to face the new challenges." – Tim Berners Lee
To resonate with that saying, despite the unprecedented circumstances that lie around, SCMS NOIDA and Amsterdam University of Applied Sciences (AUAS) successfully completed the Collaborative Online International Learning (COIL) Course on Cross-Cultural Management. Despite the virus which has sliced out our feathers to experience diversity, interact with people from other countries, we came victorious out of it by arranging a platform to interact with students from the Netherlands through the COIL Course. The COIL was a four-week course from April to June 2021 on a study about the differences and similarities in the consumption habits of the students from SCMS and AUAS. This included making groups of 4 students each: 2 from SCMS and 2 from the AUAS. They were asked to interact with each other independently and deduce information regarding the project and come up with products that can be exported/imported from/to the Netherlands. An introductory session for students of SCMS NOIDA on Cross-Cultural Management was taken by Prof. Chie Misumi, Senior Lecturer, Amsterdam School of International Business(AMSIB) who taught them about various cultural theories and concepts to be applied in the project in the COIL Course. This was followed by an ice-breaking session collaboratively taken by Dr. Nidhi Phutela, Deputy Director, SCMS NOIDA and Dr. Priya Grover, Head-Internationalization, SCMS NOIDA both for students of AMSIB and SCMS NOIDA.
Students were facilitated to interact with their group members cross-culturally and understand their similarities and differences cross-culturally. They were guided for their project too. Regular sessions of students of SCMS NOIDA were taken by faculty coordinators for this COIL Course, Dr. Priya Grover and Dr. Nidhi Phutela. The purpose was to guide them in understanding the COIL Course, interacting with the students of AMSIB and resolve challenges faced by them in successful completion of the course. The students successfully submitted the project and completed the course on time.
A valedictory session was organized by the Internationalization cell of SCMS NOIDA to mark the successful completion of the COIL Course. The valedictory session was successfully executed virtually on 30th June 2021, Wednesday.
The Session started with a brief introduction to Symbiosis International University(SIU) and its motto Vasudhaiva Kuṭumbakam which means "the world is one family". The anchor mentioned how SIU promotes cultural diversity and inclusiveness of students from around the world. This was followed by a brief on SCMS NOIDA and its flagship program, Bachelor of Business Administration (BBA). The Head of Internationalization at SCMS NOIDA, Dr.Priya Grover then addressed the audience and discussed the international programs and universities the institute is in collaboration with and the various international initiatives it carries. She congratulated the students for the successful completion of the COIL course. Further, the session went onwards with the address from Honourable Director, SCMS NOIDA, Prof.K.P.Venugopala Rao who highlighted the importance of cross-cultural knowledge and understanding. He emphasized the successful completion of the learning process despite the virus limiting us to our homes only. He extended his regards to Prof.Chie Misumi and Ms.Brechine Detmar from AUAS for collaborating with SCMS NOIDA. Then the students were addressed by Professor Chie Misumi from AUAS who stated that it was the first time when AUAS was collaborating with an Indian university and she is very much delighted to see the brilliant performance of students. After Professor Misumi, Ms. Brechtine Detmar from AUAS addressed the gathering where she said that this pandemic had been a very bad experience to the world but these types of collaborations act as a light in these times of darkness. After the address from Ms. Detmar, the certificates were presented to everyone who successfully completed the course. Further, the session flowed with reflection from the students who were the part of COIL course. The students shared their experiences and highlighted their learnings from the COIL Course. The COIL course helped students to enrich their cultural horizons and be sensitive to different cultures around the world. They said it was an astounding opportunity to have a chance to mix with people from the other part of the globe, know their lifestyles, acknowledge the similarities, and embrace the differences.
The session was then finally concluded with a vote of thanks from Deputy Director, SCMS NOIDA, Dr Nidhi Phutela who advocated the importance of exchange programs between students from different parts of the world and how it adds value to the students' perspective. She emphasized the importance of application-based learning and finally thanked the whole team for the smooth conduction of the Valedictory session.
The COIL Course was an absolute pinch of flavor that did quench the thirst of students aiming to work in a dynamic environment where diversity is an indispensable part. To impart knowledge about culture, tradition, values, language, and lifestyle about people living in the other part of the globe, SCMS NOIDA roped in the best possible opportunity for their students during these hard times. Listen to our students' experience
GLOBAL IMMERSION PROGRAM
As per their preferences, students in SCMS NOIDA are given the opportunity to study abroad for a semester and gain international exposure. By trying to be our students' unwavering support, we try to give our students the illustrious opportunity to gain international acknowledgment. Summer schools and Semester exchange are the two key components of our global immersion program.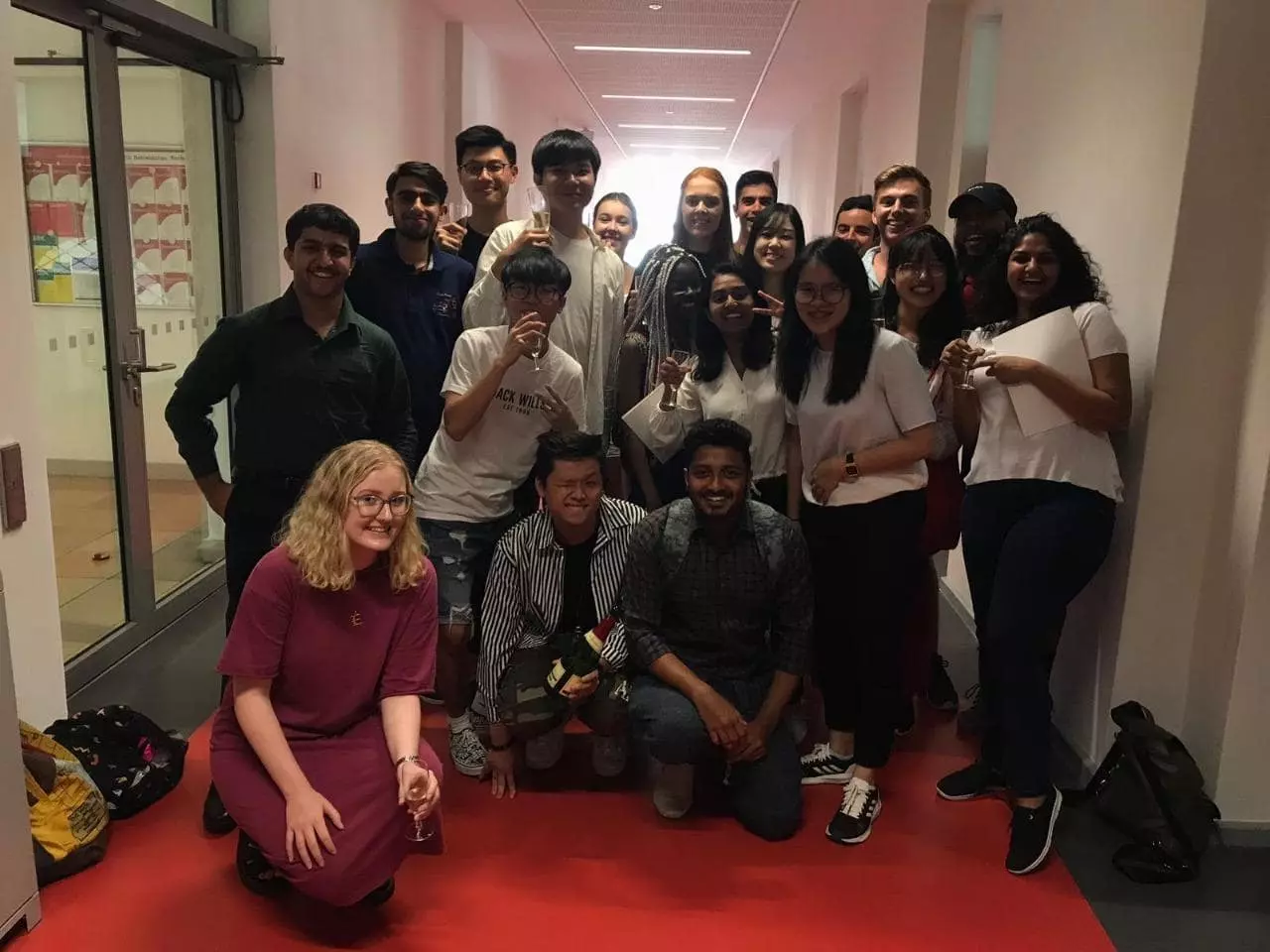 SUMMER SCHOOL
Usually, during the spring or summer, students experience summer schools in foreign universities. By attending the summer schools, students will be able to make an active contribution to numerous cultural programs, field trips, and excursions.
SUMMER SCHOOL INITIATIVES
Students of SCMS NOIDA went for the Vancouver Summer Program (VSP), which is a four-week program presented by accomplished faculties at the University of British Columbia, Canada, to foreign undergraduate students.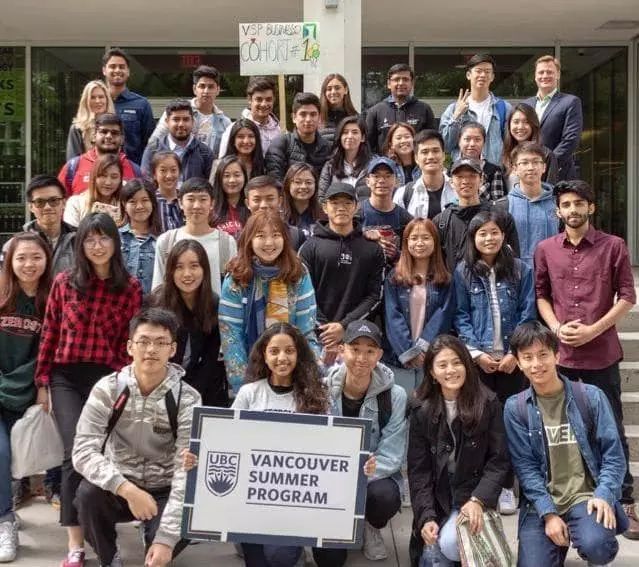 BERLIN SCHOOL OF ECONOMICS AND LAW
Students of SCMS NOIDA went to the Berlin School of Economics and Law (HWR Berlin) is among the greatest universities of applied sciences in Germany and where they were provided with the chance to widen their intellectual and intercultural competence.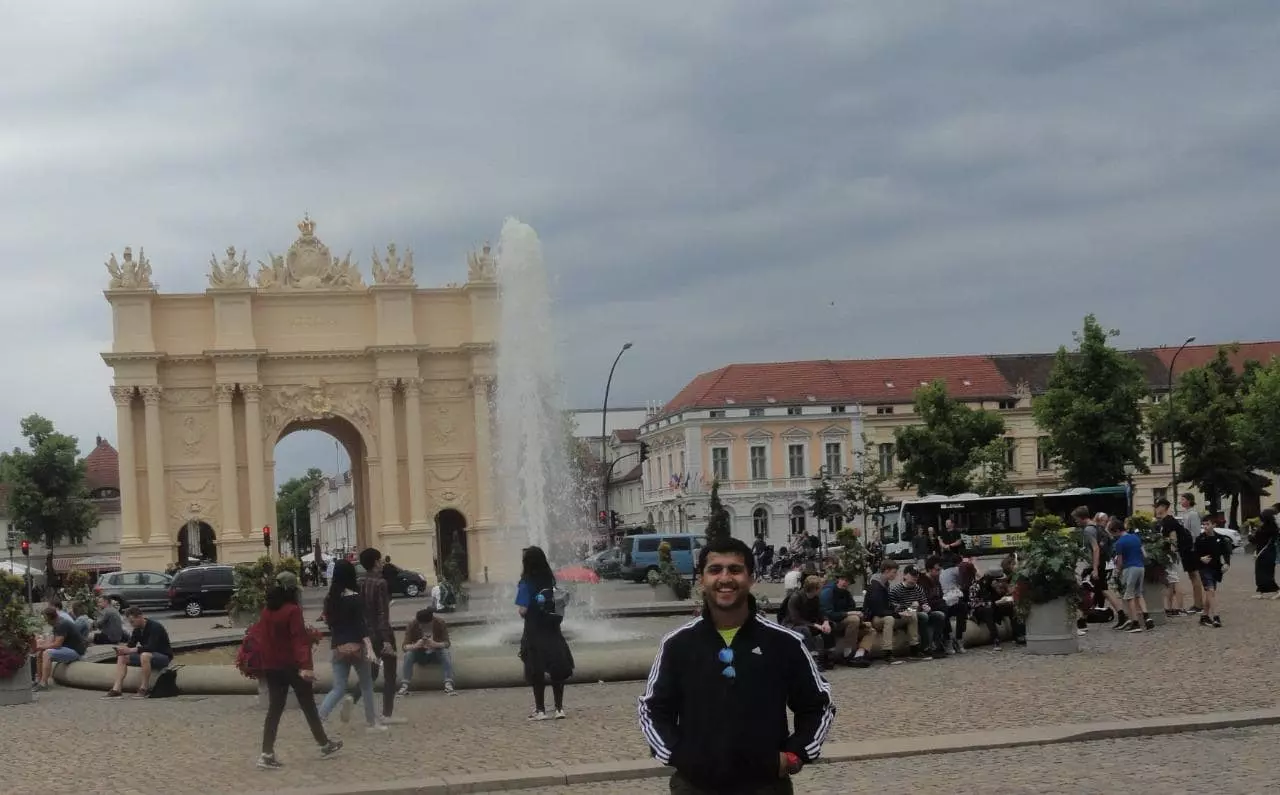 SYMBIOSIS E - ACADEMY
SUMMER E - ACADEMY
The Symbiosis Centre for European Studies (SCES)- Symbiosis Centre for International Education (SCIE) established by the Honorable Prime Minister of Czech Republic, HE MR. Andrej Babis in January 2019, launched an "Exclusive" one-week E-Summer Program for Junior College and Undergraduate Students enabling them to transition themselves in the lockdown into unlocking an incredible plethora of opportunities....
This course was developed primarily for young learners to discover foreign settings at home and to gain relevant skills that will aid them in new developments. It was an initiative to encourage them to learn and engage in different cultural environments, to build and expand their insights, and to promote their personal development. It focused on providing students with some long term takeaways for their lives. This program helped in their personal career, in embracing various cultural differences, respecting various cultural dynamics, and meeting new people from different parts of the world through their foreign compadres.
Various exhilarating and informative activities were included in the event, such as cross-cultural communication, learning about your peer group and breaking the ice, learning about branding yourself, creating a CV and a LinkedIn Profile, improving international networking skills, sharing tips and tricks to study abroad, and pairing up with International Buddies for activities. This program enabled the students to learn the global skills needed by enterprises in the 21st century and learn about preparing for internships and job placements abroad.

STUDENT SPEAK
Prithvi Raj Chauhan, Batch 2019-22,pursuing BBA at SCMS NOIDA shares his wonderful experience during the Symbiosis Summer E Academy on Internationalisation held from 1st August 2020 to 16th August 2020.
---
GATEWAY TO EUROPE
Symbiosis Centre for European Studies (SCES)- Symbiosis Centre for International Education (SCIE) introduced a 'unique' spectacular edition (weekend) of the E-Academy for junior college (Grade 11, 12) and undergraduate students to encourage them to discover the skills and knowledge necessary to thrive in this global world....
The students were to gain perspective about the higher education in European countries, interact with the European E-Buddy mentor for events, build and extend global experiences and promote personal development, collaborate confidently in different cultural settings, appreciate cultural complexities and value cultural differences, use this opportunity to improve their professional development and outline their individual and professional journey
RESEARCH INITIATIVES
Exceptional research papers are written by the esteemed faculty of SCMS Noida has been published in variousrenowned international journals. Our faculty have authored books on inquisitive management issues which are published by international publishers such as Emerald and IGI Global.
SCMS NOIDA conducted the 5th International Conference, "INCONSYM 2020" from February 20-22, 2020 with the theme, "Business Transformation in the Global Digital Era: Re-innovate, Re-strategize, Re-model" and the sub-themes of the conference were as follows:
Strategic Transformation & Process Excellence
Green Transformation & Sustainability
Innovation & Technology Excellence
Social & Economic Transformation
People, Culture & Customer Excellence
The event was a huge success with a large meet of academicians, researchers, practitioners, and corporate professionals displaying their research on the topic "Emerging Practices in the Digital Era and Strategies to Grab the Opportunity".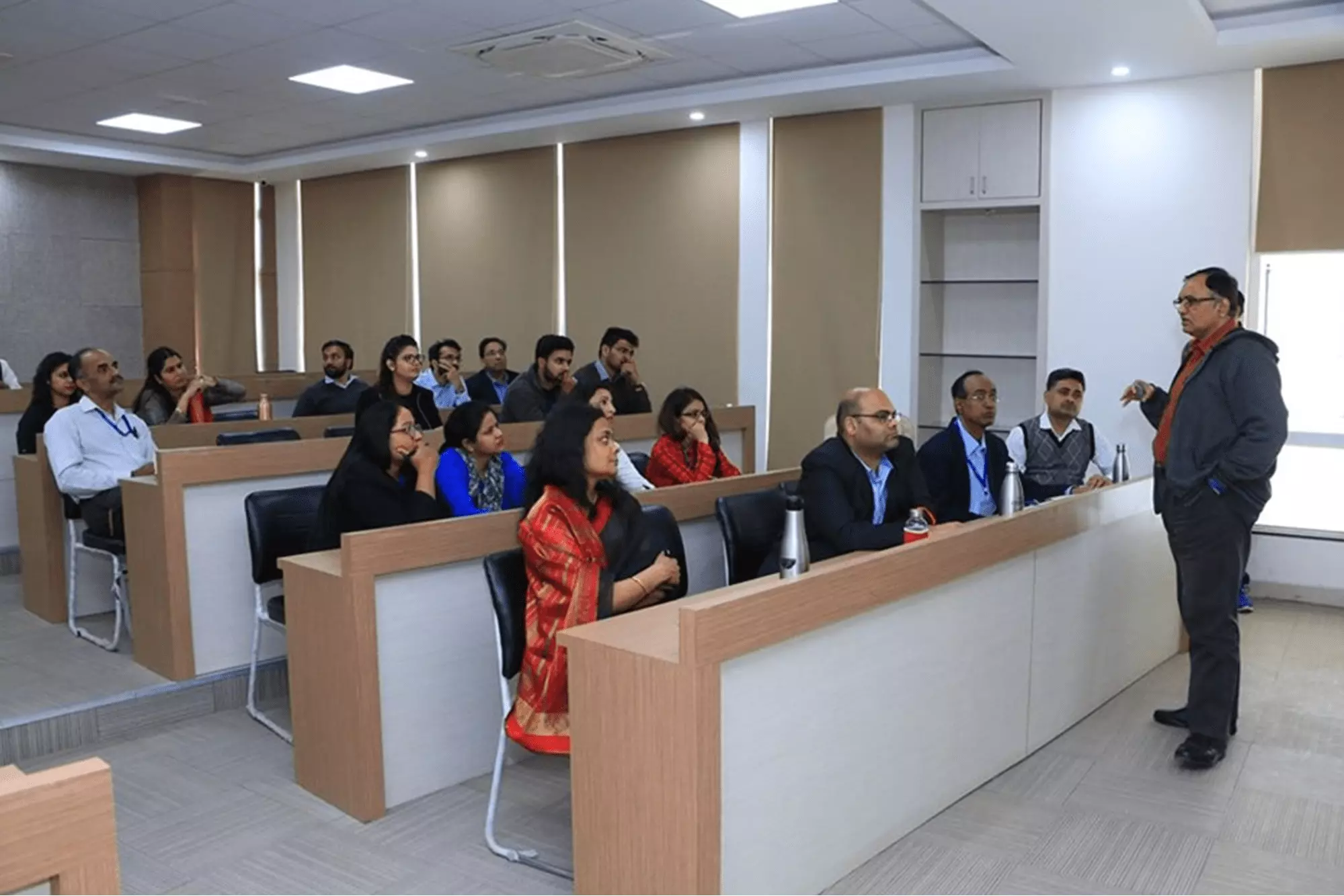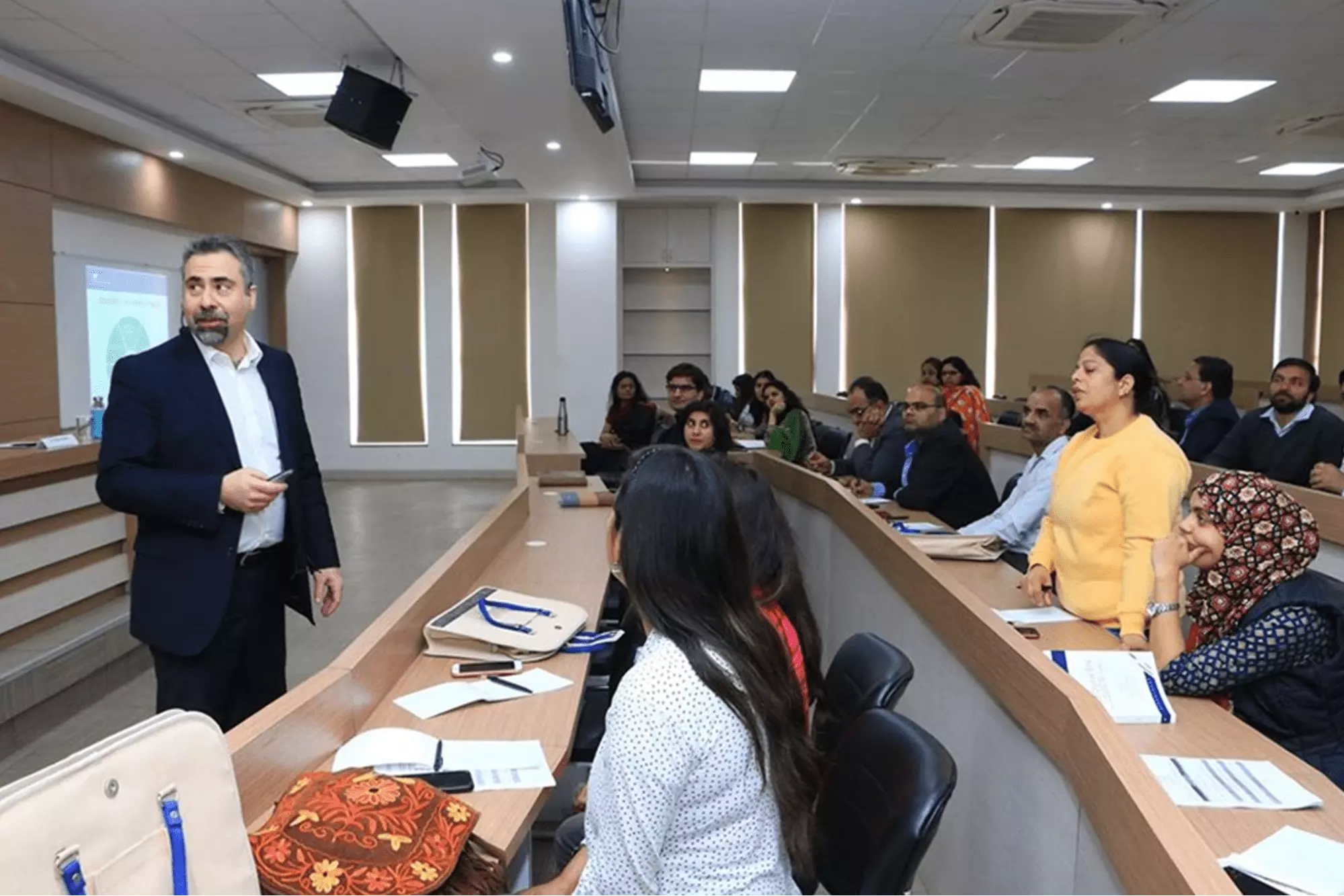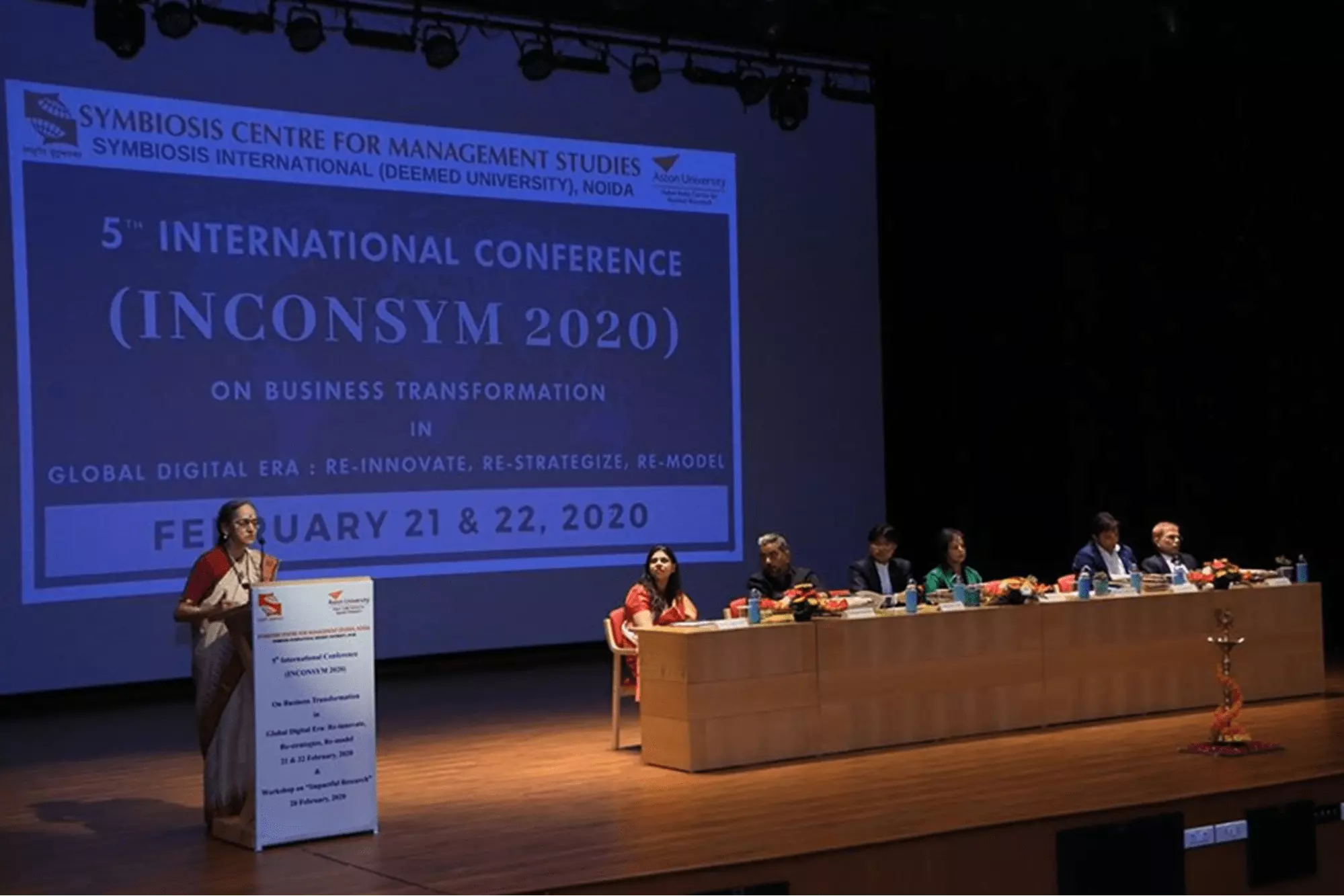 BUDDY INITIATIVES
SCMS NOIDA is a host to many international students from various countries across the globe. Internationalization cell at SCMS NOIDA nurtures international students through Buddy initiatives. Buddy meetings are held to build a sense of togetherness among international students and provide them a platform to discuss their curricular and co-curricular activities. With continuous Buddy meetings, the cell ensures that every international student is able to engage and converse with students from different corners of the world and get a sense of association.
AGENDA
Develop cross-cultural experiences and social networks

Provide academic assistance to the international students

Promote interactions among per groups cross-culturally.

Provide a collaborative and insightful learning environment.
OBJECTIVES
The objective of buddy meetings is:

To create cross-cultural friendships and understand their outlook on different cultures.

To understand their academic issues and provide them with the best possible support and assistance.

To mentor the international students and motivate them to excel in academics.

To promote peer group interaction among international students

To boost their confidence and motivate them to share ideas, feelings and experiences.
This exemplary Buddy Initiative certainly helps the international students to boost their morale and motivate them to share their ideas, feelings and build friendships.
STUDENT SPEAK
Aaysha Agrawal, Batch 2020-2023, an international student pursuing BBA from SCMS NOIDA shares her experience of a Buddy meeting organised by Internationalisation cell at SCMS NOIDA
Library Feedback
To improve the library services and the level of user satisfaction, please submit your feedback here.
Experience Sharing
"It seems like it was only yesterday that I was on my own, on a plane having no idea what future had in store for me. Being in Germany for 3 months was a life-changing experience for me. I not only learned new courses but also gained cultural experience which was not only restricted to Germany. Going for the semester exchange program gave me a wide variety of experiences and emotions which I wouldn't have experienced otherwise, all thanks to SCMS NOIDA. "
Adyaa Aggarwal - (Semester Abroad - DHBW Ravens burg, Germany)
---
"Exquisite, Enthralling, and Enriching: These three words profoundly describe my experience at the Berlin School of Economics and Law. Interacting and networking with like-minded people from around the world helped me explore my deeper self as well as enhance my knowledge and skill set."
Surya Pasricha - (Summer School - Berlin School of Economics and Law)
---
"I got a chance to spend my 2nd semester in DHBW Ravens burg, Germany. It was my first ever visit outside my home country, where I would meet different people from all around the globe with different cultural backgrounds. Within these six months, I got a chance to travel to fourteen different countries in Europe. This exchange program has evolved me as a person and broadened my thinking towards Global business."
Stuti Jain - (Semester Abroad - DHBW Ravens burg, Germany)
---
"I don't have enough words to express my admiration for my college for bestowing me with the opportunity of being a part of the exchange program at one of the universities in partnership. Personally, it was quite challenging as we had to adapt to the new conditions of life across the ocean. But, all this contributed to making my experience of the semester even more amazing. The time I spent abroad proved to be very beneficial because of the endless life lessons and learning experiences...All thanks to SCMS NOIDA."
Ronnak Aggarwal - (Semester Abroad - IESEG School of Management, France)
---
"If someone had asked me a year ago to move to a new country by myself, I wouldn't have paid much attention to it. But because of SCMS NOIDA, not only did I do that...I also found it to be one of the best experiences of my life. From meeting people from all around the world to studying from learned and experienced professors, it all made me realize that the world is my oyster."
Prajjwal Singh - (Semester Abroad - IESEG School of Management, France)
---
"I had a wonderful time being a part of the three-day DHBW Simulation program and learning so much from different people with different nationalities altogether. Special thanks to SCMS NOIDA and SIU for giving me a platform to be among the best, learn among the best, and compete among the best!"
Malcolm Hendricks -(DHBW Simulation Program)
---
"Being a part of DHBW Management Simulation was an incredibly informative experience. The program helped us learn applications of theoretical knowledge, making real-time management decisions, communicating with diverse people, and teamwork. Special gratitude to SCMS NOIDA and the Internationalization cell for providing us with the opportunity to have such an enriching experience."
MEHAK WAHI - (DHBW Simulation Program)
---
Check out the video of our student's experiences here :
Library Staff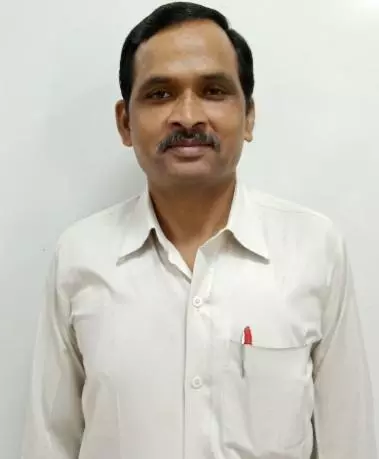 Mr. Virendra Rajput
(M.Com, MA, MLISc)
Assistant Library Incharge
virendra.rajput@scmsnoida.ac.in
Phone : 0120-2405065/67 Extn-293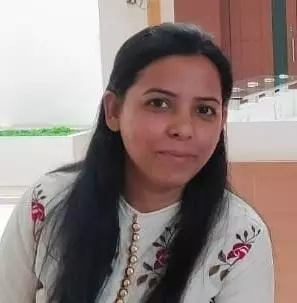 Ms. Vandana Dahiya
(B.Com, MLIS, UGC-NET)
Assistant Library Incharge
vandana@scmsnoida.ac.in
Phone : 0120-2405065/67 Extn-293

Contact Us
Symbiosis Centre for Management Studies, NOIDA
Address: Plot No. 47 & 48, Block A, Sector 62,
NOIDA, Uttar Pradesh 201301
Tel (office): +91-120-2405065/ 66/ 67
Email: library@scmsnoida.ac.in
INTERNATIONAL STUDENTS DAY CELEBRATION
"Everyone is a student of life as we all keep learning something or the other throughout our lives."
On July 31, 2020, we celebrated International Students Day on the occasion of our esteemed Chancellor's birthday, Prof. Dr. S. B. Mujumdar, a renowned academician & educationist, whose vision has prospered into a pivot of higher education, intriguing scholars from different parts of the world.
The Internationalization Cell at SCMS NOIDA successfully conducted a webinar on the subject "Internationalization of Higher Education: Way Forward'' on 31 July 2020 at 3:00 p.m. (IST) on Mr. Majumdar's birthday to celebrate his exceptional services. To mark this gracious occasion SCMS NOIDA was immensely honored to have Mrs.Reeta Narang Sood, Civil Servant, UK Government, and Dr. Geoffrey Clements, Chairman, Commonwealth Infrastructure Partners who shared their profound insight and expertise as well as guided us on the road to the internationalization of higher education. After the webinar, team SCMS NOIDA was also welcomed to join a plantation drive and to promise a deep commitment to an environmentally friendly atmosphere.
Click here to view the video
INTERNATIONAL CONCLAVE
The International Business Club and Internationalization cell are collaborating to organize an international conclave on the theme "Industry 4.0: Towards Future Industrial Opportunities & Disruptions" which would encourage imperative global conversations and healthy discussions. This platform will be in the format of a conclave that aims to promote student engagement as well as provide substantial insight into the global world and economy. The conclave plans to impart pragmatic business knowledge via accomplished professionals who would address the students followed by a series of educational games along with discussions to increase student involvement. The conclave will facilitate the holistic development of all the students.
DHBW SIMULATION PROGRAM
A strategic managerial business technique is important in various professional roles. DHBW, Ravens burg Germany along with the SCIE, Pune offered the management simulation program TOPSIM – easy management through which the students got a chance to manage a business themselves and see how their choices affect the business in practice. It included all the bachelor students who are even in the early semesters of their degree as well as students studying non-business subjects. TOPSIM – easy management aimed at creating a business environment exactly like an exterior recreational company. Participants behaved as supervisors and took administrative decisions in various functional areas of management such as manufacturing, transportation, human resource management, admin, and accounting. This core operational curriculum equiped students with a standardized knowledge of business administration and the corporate culture. Through this simulation, students learned the terms of service of business management and metrics, marketing fundamentals, staff planning criteria, financial reporting tools, and documentation as well as knowledge about consolidated budgetary reports.
STUDENT SPEAK
Isha Sarawagi, Batch 2018-2021, pursuing BBA at SCMS NOIDA shares her wonderful experience during the DHBW Online Simulation program held from 30th September 2020 to 2nd October 2020.
GLOBAL TALK SERIES
The Internationalization Cell offers the Global Talk Series as a way to support students of SCMS NOIDA in the areas of Industry 4.0 with the advantage of internationalization. 1-2 Talk series is hosted every month by the Internationalization Cell. All Global Talk events are free to attend for the students.
If there is a topic you would like us to feature, please feel free to contact us with your idea at: int.studentcell@scmsnoida.ac.in