National Level Inter-School Advertisement Poster Making Competition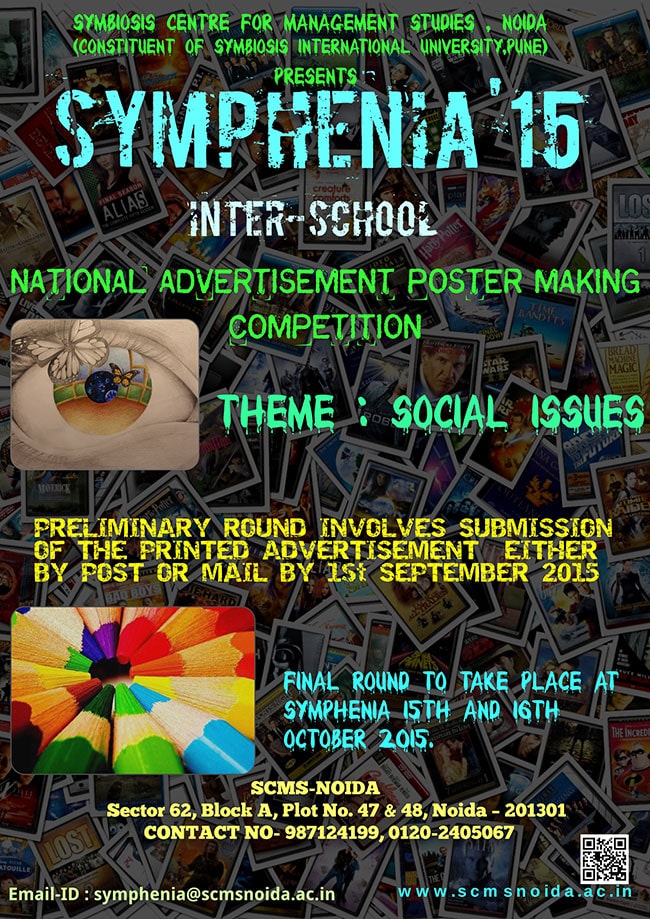 Structure of the Competition:
The Print Ad Competition consists of two rounds: First round and Final round
Participants must submit the print ad poster of A3 size on the topic "Print Ad on Social Issues issued in Public Interest"
The written submissions for the first round should be delivered to SCMS-NOIDA
through post or through e-mail, by 1st September, 2015.
Postal Address: Symbiosis Centre for Management Studies
Block A, Plot No. 47, 48
Sector 62, NOIDA-201301
E-mail ID: symphenia@scmsnoida.ac.in
Best 3 posters will be selected from each school after the first round.
The result of first round will be declared within 7 days.
The selected participants will be invited for the final round wherein they will have to make a print ad poster on a topic provided at the time of the competition.
The final round will be held in our Inter-School Fest 'Symphenia' on 15th October 2015 and the results will be declared on the second day of the fest, i.e. 16th October, 2015.
Guidelines for written submissions of essays for first round:
Size of poster will be A3.
Any weight of paper is permitted.
Only one poster per person will be accepted.
Only original poster designs will be considered for the competition. Previously published posters are excluded. Any form of plagiarism will result in disqualification of the essay.
Use of online websites or professionals to create posters is not allowed.
There should be a cover page including name of the Participant, Address, E-mail ID, Contact Number, Name of the School with address and email id. If the submission is made through e-mail, the subject line of the e-mail should be "Submission for Print Ad Competition".
Evaluation Criteria for the print ad:
Following criteria will be used in assessing the essay:
Impact is the sense one gets upon viewing an image for the first time. Compelling images evoke laughter, sadness, anger, pride, wonder or another intense emotion.
Creativity is the external expression of the imagination of the maker by using the medium to convey an idea, message or thought.
Subject Matter should always be appropriate to the story being told in an image.
Color Balance supplies harmony to an image. An image in which the tones work together effectively supporting the image, can enhance its emotional appeal. Color balance is not always harmonious and can be used to evoke diverse feelings for effect.
All criteria's will have equal weightage.
Prizes:
SCMS-NOIDA will honour all the winners (I, II and III) with Trophies.
All participants will be awarded a certificate of participation.