Symचर्चा 16: InterCollegiate Debate Competition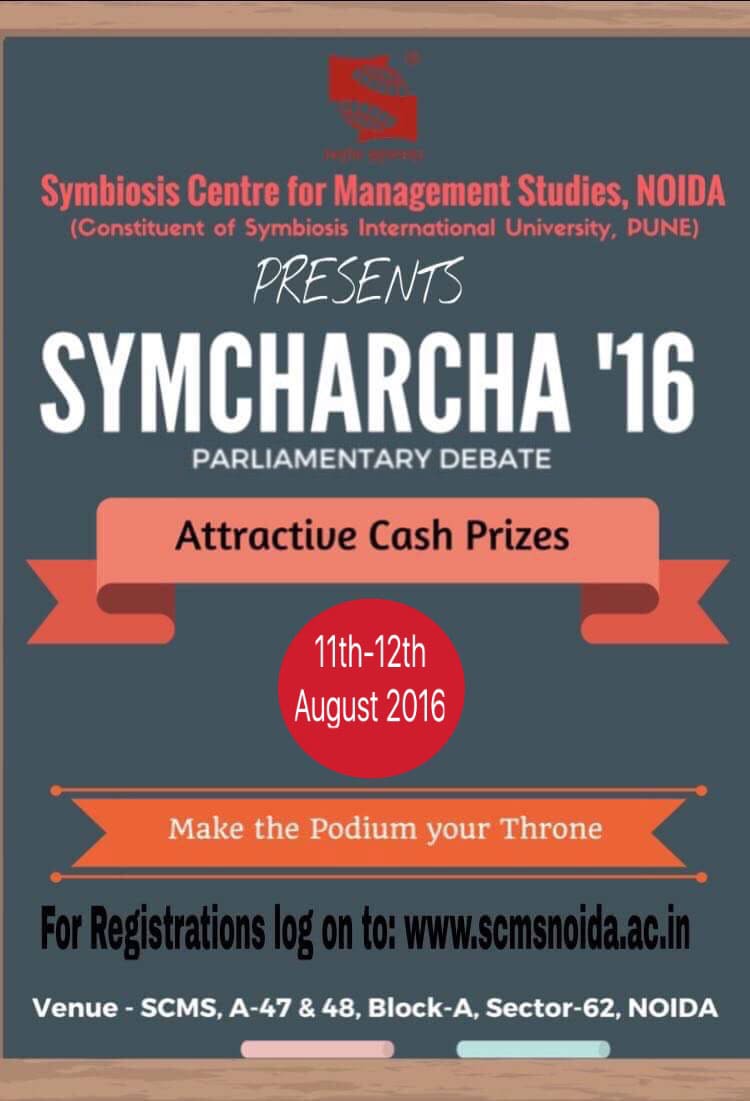 Symचर्चा is a platform for students to network and interact among the peer group as well as discuss topics of national and international importance. At Symbiosis Centre for Management Studies, Noida , inter college events are widely attended by students of the best colleges in India.
All participants will receive participation certificates and winning teams would be awarded with attractive cash prizes:
1st prize: Rs. 5000/­-
2nd prize: Rs. 3000/-­
3rd prize: Rs. 2000/-­
Special Prize For Best Speaker: Rs. 1000/­-
We assure you that with our warm hospitality and conducive environment, the participants will have a funfilled and enriching experience as they visit our campus and participate in the Intercollegiate Debate Competition.
For registrations log on to http://goo.gl/forms/SNTr2k37b47BUasi1
For more Information contact and write to our Student Coordinators:
Saatvik Nagpal ­- +91 ­8826090300
Shreya Mehta­ - +91 ­9811631193
Email Address:​ symcharcha@scmsnoida.ac.in
Rules & Regulations
The format of the debate will be in adherence to Parliamentary Debate Format.
Each team must comprise of three members only.
Cross colleges teams are allowed.
There is no registration fee for participating in Symचर्चा' 16.
The topics of the debate will be intimated to the participants on the spot.
The decision of the judges will be final and binding.
Violation of such norms might lead to disqualification.
NOTE: Morning refreshments and lunch for the participants shall be provided by the college.