About Library
SCMS NOIDA Knowledge Resources Centre is well equipped with precious books, Textbooks, Reference books, Periodicals, and Journals. The library with its wide collection of knowledge resources and innovative information services fills an essential requisite in the intellectual pursuits for our students and faculty. The library is enriched with digital facilities and computer systems. Book Bank facility is provided to the entire first-year student for the whole semester. Every year a large collection of the textbook is added to the existing book bank of the library. The student will get a set of book bank at the beginning of the semester.
The library is fully automated using KOHA integrated library management software. Through OPAC (Online Public Access Catalogue) anyone can access reading material information from anywhere, anytime with the given link (http://symbiosis-koha.informindia.co.in)
SIU Central library has developed a Library Portal for all the institutional libraries to provide remote access to its E-resources (https://library.siu.edu.in).
Print Collection
| | | |
| --- | --- | --- |
| Sr. No. | Name of the Collection | Number of the Collection as on May 2020 |
| 1 | Books | 9389 |
| 2 | Book Bank | 2800 |
| 3 | Magazines | 19 |
| 4 | Journals | 9 |
| 5 | Newspaper | 5 |
Library Timings
| | | |
| --- | --- | --- |
| Days | Library | Issue-Return |
| Monday to Saturday | 9.00 am to 5.00 pm | 9.00 am to 4.50 pm |
General Rules
DO's:
Be a registered Library User
Present Student ID when borrowing books for hourly use, and Periodical/Reference Section.
Use Library PCs only for research/academic works
DON'Ts :
Do not make noise in the Library.
Do not use cell phones inside the Library
Do not listen to music while in the Library
Do not carry bags and personal belonging inside the Library
Do not remove or plug in your own peripheral devices.
Membership
The Students, Research Scholars, Staff and Faculty member of the SCMS NOIDA can avail the Knowledge Resource Centre facilities. First step to register with the Knowledge Resource Centre (KRC) as a member by filling the membership form available at help desk (along with passport size photograph). Registered users are privileged to access e-resources within campus and also outside the campus anytime anywhere
Rules For Membership
Users are requested to carry their ID card every time they visit the library it is required for borrowing books from the library. Users will get SMS and Email alert from the library system at the time to check out and check-in on books. In case of delay in getting SMS or Email alert, please contact the Librarian immediately. KRC system also generates reminder SMS and Email on the due date of the books. Users are advised to return the books to the KRC on or before due date.
In case of delay in returning of books, an overdue fine of Rs. 5 per daybook will be charged.
Book Renewal: Two times to be renewed in a month.
Institutional Membership
DELNET (Developing Library Network)
The Knowledge Resource Centre (Library), SCMS NOIDA is a member of DELNET. It is a network of more than 6000 libraries globally. DELNET provides an array of facilities. User may request the Librarian to arrange books or research papers from affiliate libraries. The users at SCMS NOIDA can access databases hosted by DELNET at (http://www.delnet.in/)
If at any process you find any confusion, please submit a query at library@scmsnoida.ac.in.
Library Services And Facilities
Online Public Access Catalogue (OPAC)
Online Public Access Catalogue (OPAC) can be accessed on the internet and intranet to search all the records available in the SIU Library database through a web-based search interface. OPAC also provide information about new arrivals of Books, Journals, Magazines etc. The Web OPAC can be accessed at (http://symbiosis-koha.informindia.co.in/)
Library Portal
Knowledge Resource Centre, SCMS NOIDA All the procured e-resources can be accessed through the Library Gateway Portal at (https://library.siu.edu.in/)
Inter-Library Loan (ILL) And Resource Sharing Facility
The Library arrange Books and Journal from all institute library on Inter-Library Loan (ILL). The Library is also a member of DELNET and utilizes its service
Book Bank
The Institute provide book bank facility to the students as course material kits for the entire semester.
Question Bank
Question papers of the previous examinations are preserved by Knowledge Resources Centre.
Borrowing Facility
| | | | |
| --- | --- | --- | --- |
| CATEGORY | BOOKS | PERIOD | OVERDUE CHARGES |
| Faculty Members | 10 | 6 Months | NA |
| Visiting Faculty | 2 | 30 Days | NA |
| Staff | 2 | 15 Days | NA |
| Research Scholar | 4 | 15 Days | NA |
| Student | 3 | 14 days with two times renewal | Rs 5 Per Days |
Borrowing Rules
An overdue charge of Rs. 5 per day per volume will be collected for returning the books after the due date borrowed by them.
Members shall check the physical condition of the book while borrowing from the library. In case anything missing pages are torn it should be reported to the Circulation desk immediately.
The Library in charge reserves the right to recall any books from any member at any time.
The transfer of books is not permissible.
Loss of book should be immediately reported to the circulation desk in writing to avoid fine.
Taking no dues from the library is mandatory for all the members.
E-Resources
Library Portal (https://library.siu.edu.in/)
Library members can get access to all e-resources on the library portal. To access these e-resources you should have the login credentials for it. Every year newly admitted student's registration is done according to their course duration by the librarian.
Once the registration is completed members get access to all e-resources purchased by the SIU Central library. Also, all institutionally subscribed databases, e-books, and e-journals can be accessed through this library portal.
*All subscribed e-resources can be accessed through SIU Library Portal (https://library.siu.edu.in/).
DELNET
TAXMANN E-BOOKS
EBSCO HOST
Elsevier: Science direct - Management
Emerald Management E-Journals
Web of Science
Frost & Sullivan
JSTOR
SCOPUS
Turnitin
EndNote
E-Research
Pearson E-Books
Sage Online Collection - Management & Organization Studies
Institute Publication
Journal of General Management
Journal of General Management Research, published by SCMS NOIDA is a bi-annual journal, intended to encourage new ideas and perspectives through research articles that include high quality conceptual/theoretical review papers, empirical and multidisciplinary research papers, case studies, and book reviews in the area of management. It contributes towards different aspects of management views, research, and practices. Through this journal an effort has been made to explore the dimensions of management practices for enriching modern management science. It caters to a wide variety of audience mainly practitioners, researchers, and academicians.
The Journal of General Management Research aims to publish articles that cover domains such as —
Marketing Management
Financial Management
Organisational Behaviour & Human Resource Management
Economics & Econometrics
Operational & Production Management
Supply Chain Management
Information and Communication technology
IT and Analytics
Environmental Sustainability
Business Strategy and Policy
Entrepreneurship
Library Club Newsletter
Library Committee
| | | | |
| --- | --- | --- | --- |
| S. No. | Name | Designation | Role |
| 1. | Dr. K P Venugopala Rao | Director | Chairperson |
| 2. | Dr. Nidhi Phutela | Deputy Director | Member |
| 3. | Mr. Abhinav Pal | Assistant Professor | Faculty Library Incharge |
| 4. | Dr. Kriti Priya Gupta | Professor | Member |
| 5. | Dr. Anagha Shukre | Associate Professor | Member |
| 6. | Mr. Narendra Singh Chaudhary | Assistant Professor | Member |
| 7. | Dr. Kanishka Gupta | Assistant Professor | Member |
| 8. | Mr. Ashok Kumar Sharma | Assistant Admin Officer | Member |
| 9. | Ms. Vandana | Asst. Library Incharge | Member |
| 10. | Ms. Kamya Gursahani | Student Batch 2018-21 | Member |
| 11. | Ms. Devansh Goenka | Student Batch 2019-22 | Member |
| 12. | Dr. Sangeeta Paliwal | Librarian, Central Library | Invitee |
| 13. | Mr. Virendra Singh Rajput | Asst. Library Incharge | Member Secretary |
Library Feedback
To improve the library services and the level of user satisfaction, please submit your feedback here.
Purchase Suggestions
Knowledge Resource Centre, SCMS NOIDA procure textbooks, reference books on the request of Institute Faculty, staff, and student. To recommend Books/Journals/Magazines/CD's etc.) the users may request to submit request through KOHA Web OPAC (http://symbiosis-koha.informindia.co.in/).
Library Staff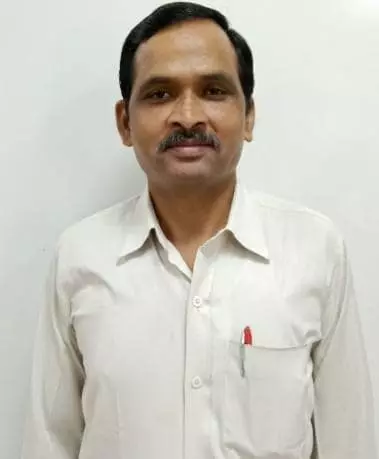 Mr. Virendra Rajput
(M.Com, MA, MLISc)
Assistant Library Incharge
virendra.rajput@scmsnoida.ac.in
Phone : 0120-2405065/67 Extn-293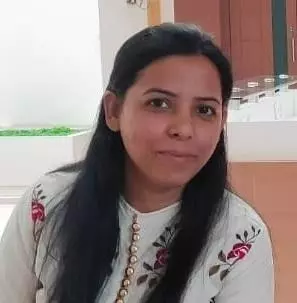 Ms. Vandana Dahiya
(B.Com, MLIS, UGC-NET)
Assistant Library Incharge
vandana@scmsnoida.ac.in
Phone : 0120-2405065/67 Extn-293

Contact Us
Symbiosis Centre for Management Studies, NOIDA
Address: Plot No. 47 & 48, Block A, Sector 62,
NOIDA, Uttar Pradesh 201301
Tel (office): +91-120-2405065/ 66/ 67
Email: library@scmsnoida.ac.in