The Director - Dr. Shrirang Altekar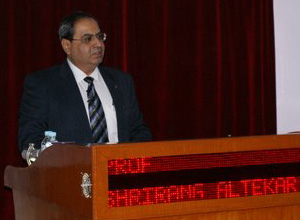 Dr. Shrirang Altekar holds a Ph.D. in Consumer Behavior from the Symbiosis International (deemed University), Pune. He is also a product of the Symbiosis Institute of Business Management, Pune, a top 10 B - School in India, from where he did his Master's in Business Administration, with Marketing as his area of specialization.
He has extensive knowledge of technical and non-technical areas of business and has been involved in running businesses at the strategic level. He comes with an industry background of 23 years. He has worked in a consulting, advisory and training capacity with several corporates in the FMCG, Insurance, Manufacturing, Chemical, Pharmaceutical and Aviation Sectors. His love for academics and a desire to give back to his Alma Mater coincided with a planned shift to academics in 2006.
Dr. Altekar also holds a degree in Law, and was the Chairman of the Curriculum Evaluation Committee of the Symbiosis International (deemed University) for 2 years. He is the Editor in Chief of the Journal of General Management Research.
He has been instrumental in bringing to his students some of the best practices in industry, to enhance and supplement their academic inputs, and is highly acknowledged as a teacher and corporate trainer.
Dr. Altekar has taken over as the Director of the Symbiosis Centre for Management Studies, NOIDA, ( SCMS – N ) from April, 2011, and his passion is to lead it towards achieving the goals of Relevance, Research and Re-invention. SCMS – N has in the short period since its inception, been recognized as one of the most sought after institutes in Delhi NCR.